Best Pumpkin Pie Recipe
This is the final stage of the best pumpkin pie recipe. The swirl of filo pastry filled with pumpkin filling and spinach and cheeses is sitting attractively in the non-stick baking tin, waiting for the final steps.

At the conclusion of this stage of this pumpkin pie recipe, you'll have plated this very attractive swirl pie.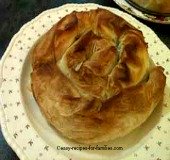 Step 1: Glaze
Using the surplus oil in the cup, brush the whole of the filo swirl with oil, taking care to brush into every nook and cranny.
It is the oil that browns the pastry beautifully and adds moisture, so don't take a short cut and avoid this step.
You may use a can of spray of oil. Apply liberally.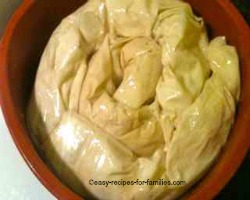 Step 2: Bake
The glazed pie swirl is now ready for baking in a preheated oven.
At the start of this procedure, the recipe called for preheating the oven at 360F/180C. The oven should be at an even temperature now.
Pop it in the lower center of the hot oven.
Bake for 45 minutes.
Here it is, beautifully, golden brown.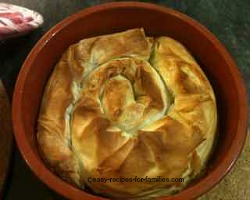 Leave the pie to rest for 10 minutes while it cools.
Decant it to a lovely platter and serve immediately while hot.
This Pie Goes Well With...
This is such a delicate textured pie with subtle flavored pie filling. Enjoy this with a crunchy salad full of color and flavors such as this
smoked chicken salad
.
This pie is ideal as as a pot luck dish or to serve for lunch time entertaining with a variety of dishes on offer.
Tips
This pumpkin pie is wonderful eaten straight away while the filo pastry is hot and crunchy.
This recipe does not keep well and the pie will go soggy the next day. Further, this pie recipe is not suitable for freezing.
---
Explore this site for


hundreds of delicious easy recipes, including super easy, tasty one pot meals prepared in a flash.