Melting Moments
My Heritage Recipe

These Melting Moments are one of my favorite easy recipes. It has been in the family for years. We used to make these in large quantities to present them as holiday gifts.
A Tray of Easy To Make Yummies
So Short and Buttery, They Melt In A Moment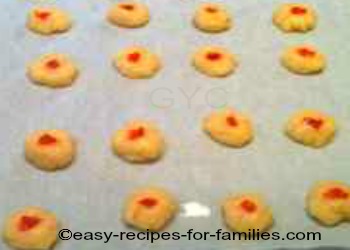 Ingredients for Melting Moments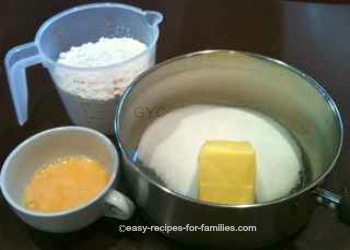 The name is most appropriate as they're light, delicate and very short - These little short breads last just a moment.
This is a very "short" recipe, so take care not to over handle.
"Short" in cooking terms means it's very buttery and crumbles easily. You'll see this term in "Shortbread" cookies and they're rich and very delicious.
Our Family Recipe - Melting Moments
This recipe makes 120 little yummies.
Just Add
Combine
• 8oz/250 gm/1 block butter

• 3/4 cup sugar

• 1 egg, beaten

• 3 cups plain flour


• Turn oven on to pre-heat at 350F/ 180C

• Line and grease 2 large baking trays with baking paper or preferably use non-stick cookie sheets

• In saucepan, melt butter on moderate heat. Add sugar and combine well. Take it off the heat as soon as the butter melts

• Keep stirring till the mixture becomes thick

• Pour in beaten eggs, combine

• Pour in flour and fold till there are no lumps


Make little balls
• 1/4 cup quick oats (Optional)

• 6 glace cherries, cut into tiny pieces


• Use a teaspoon and scoop a little amount onto the teaspoon

• Handle lightly and make them into little balls

• Roll them in the oats, if you wish

• Flatten. Pop them on the baking tray

• Decorate with a tiny piece of glace cherry


Bake
• Bake for 10 - 12 minutes till lightly golden. Take care to watch that it doesn't brown

• Take them out of the tray and cool


Store the cookies in an airtight container.
They are ideal to present them as gifts. Present them in a container wrapped with clear cellophane paper and a bright cheery ribbon.
Tips
It's far more efficient to use non-stick cookie sheets but if you don't have them, be certain to line your trays with parchment or baking paper and grease them. You do this by brushing a little oil over the sheets using a pastry brush.
Before handling the mixture to make into little balls, rub your hands in a little flour. It makes much easier to work with the dough.
The glace cherries are for decoration. While this step is optional, the final result does look much more attractive.
Handle the mixture lightly and quickly so that the cookie doesn't become too hard.
The oats are just the usual quick oats you have for breakfast. This step is optional. Rolling in oats gives the cookies a robust touch.
Remove them from the baking paper early, using a spatula to prevent them sticking.
The added benefit of this yummy recipe for Melting Moments is the minimal washing up. Make them and watch them disappear from your cookie jar.
---
Leave Melting Moments to discover loads of easy recipes for "more-ish" baked goodies that'll be a hit with the family!