Christmas Fruit Salad Recipes

Christmas fruit salad recipes look sensational served in a waffle cone like a cornucopia.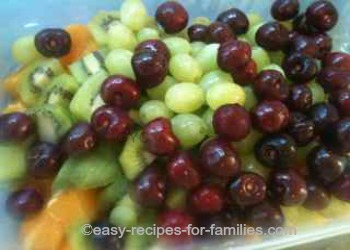 To make Christmas festive salads easy, look for quality and lots of cheery color - reds, greens, oranges, blues, yellows just like this. But the secret to easy Christmas fruit salad recipes is to select fruit that is
not
overly juicy.
Rating:
Easy
Hands-On Time:
20 minutes
Hands-Off Time:
0 minutes
Ingredients:
9
Steps:
Wash and cut fruit
Here's a lovely festive way to serve this recipe.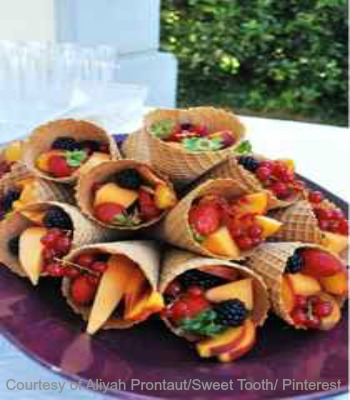 Ingredients for A Colorful Christmas Fruit Salad
Equipment: A beautiful salad bowl
Yellow - Pineapple
Orange - Oranges
Green - Kiwi
Red - Strawberries, Cranberries
Maroon - Cherries
Blue - Blueberries
Light green - Grapes
Optional - waffle or ice cream cones
Make this recipe on Christmas Eve so that the fruit salad is fresh when served on Christmas Day.
Makes 20 servings of fruit salad.
Just Add
Prepare
• 6 oranges

• 1 can of pineapple rings (10 slices),

• 1 pound of seedless green grapes

• 6 kiwi fruit

• 1/2 pound blueberries

• 1/4 pound strawberries

• 1/4 pound cranberries

• 1 pound cherries

• Optional: Waffle cups or mini waffle cones or ice cream cones




• Select only the best quality fruit for use in this special festive Christmas fruit salad

• Oranges - remove skin, cut into large chunks

• Kiwi - select firm ripe kiwi - remove skin, cut into quarters

• Canned pineapple - drain the juice, cut the slices into quarters

• Strawberries - wash but do not hull. Select small sweet ones as these will go into the salad whole

• Cranberries - wash and tear off little bunches. For tiny fruit like this, it's best to keep them in clusters.

• Wash and drain well the grapes, cherries and berries. Toss into the salad bowl only when the fruit is dry

• Toss all the washed and cut ingredients into a lovely deep salad bowl taking care not to include the juices

• Optional: To serve, spoon a quantity into a mini waffle or ice cream cone so that it looks like a cornucopia spilling with colorful harvest. To prevent sogginess, you may want to coat the inside of the cone with chocolate. You could apply a dusting of crushed nuts or mini marshmallows.



The objective of this recipe is to serve the best quality Christmas produce as dry as possible. It looks sensational in waffle cones so you don't want anything soggy messing up the crisp waffle cups.
Notice we don't use apples, pears or bananas in this recipe. These fruits when cut, need to be served immediately as they brown. Lemon juice does stop the browning, but it also leaves the cut fruits wet, which is not the desired result for this festive recipe.
It's best also not to use overly juicy fruit like mangoes and watermelon. They'll make the cones soggy in no time at all. If you are using rockmelon or peaches, select ones that are not overly ripe.
Tips
There's no need to add any sugar, honey or liqueur. Enjoy the natural taste of fresh produce.
Save the juices from the can of pineapple and from cutting up the oranges. Refrigerate the juice to serve later in a refreshing festive punch.
---
Leave Christmas Fruit Salad Recipes to discover hundreds of sensational yet so easy recipes!