No Fail Damper Recipe

Our tried and tested damper recipe has been cooked many times over on our camping trips. The key is not just the recipe, but is in controlling the coals. Check out our secret to this cooking this recipe.
The key to camp cooking is managing the open fire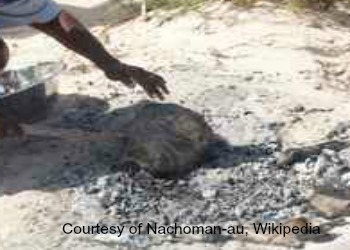 Camp Bread Recipe - An Outback Bread Damper is camp cooked bread. It's tough on the outside but soft and delicious on the inside.
Rating: Easy
Ingredients: 3
Steps: 2 then into the coals


Damper
This recipe makes 8 servings. This damper is enough for a family with left overs to snack on.
You'll need:

• 4 cups self raising flour

• 2 tspn salt

• 1 1/2 cup water

• Aluminum foil




How to Prepare:


• To the flour and salt, gradually add water and mix well

• It makes a firm dough

• Shape the dough into either one large damper or several small buns


Cook
• Wrap the damper in Al foil

• Place in the coals. This step is important. The damper is not cooked in a flaming fire but on hot coals

• Clear a depression in the hot coals and place the damper in it

• Place more coals over the damper so it is covered completely with coals

• The damper is cooked when it sounds hollow when tapped.

Serve hot with butter.

Now, how simple was that! This recipe for damper is tried and tested. It is always a success and the kids unfailingly love this camp recipe.

Not only is this recipe so simple, but it's also comforting to have familiar food - bread, when you're in unfamiliar surroundings.

Tips

When camping, wash up your mixing bowl straight away so that the dough does not harden and make cleaning more difficult.

When you're more experienced with this camp recipe, you won't even need to wrap the dough for this recipe in Al foil. You can pop the damper dough straight into the coals. Yes, it'll be blackened on the outside, but the inside is soft and delicious.


---
Leave Damper Recipe to check out our tried and tested simple Camping Recipes which is our camping repertoire. We've been camping for years as a family and with our local scout group.