Campers Pumpkin Soup
An Easy Camping Recipe

This super easy camping recipe, Campers Pumpkin Soup makes a hearty, filling and tasty meal. Meals with this fruit are ideal recipes for camping as it keeps well without refrigeration and you needn't worry about it perishing in the few days at camp.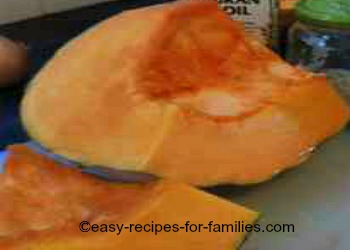 Easy Camping Recipe - Campers Pumpkin Soup
This is a very easy meal which can be cooked by older kids. The only part that will require parent assistance is the trimming off of the pumpkin skin. Use a heavy sharp knife to remove the tough skin.
There's no need for a blender - just use the potato masher and "moosh" the soup which will make it thickly textured and delicious.
Here's the recipe for 6 - 8 generous servings.
For this rustic campers soup recipe, you'll require:
4 pounds/ 2 kg pumpkin
2 onions
chicken or vegetable stock powder
salt, pepper, sugar
1 cup long life cream
Equipment: Potato masher
Large soup pot or dutch oven
Step 1: Prepare pumpkin
Remove the skin and seeds.
Cut into 1 inch chunks.
Rinse chunks and pop into a large soup pot or dutch oven.
Peel the 2 onions, cut into quarters, pop them into the pot
Step 2: Add stock and water, cook
Place the pot with the soup vegetables onto hot coals, which are place adjacent to the camp fire. As usual, don't cook directly on the fire, but take the coals out of the fire, place them close by and put the cooking pot on these separate coals. In this way, there is some control over the heat.
Add 5 teaspoons of stock powder
Add 6 cups of water
Add 2 teaspoons of sugar
Add salt and pepper to taste
Bring to the boil.
Step 3: Simmer Then Moosh
Take off every second coal from around the base of the pot, to lower the heat. Simmer till the fruit is tender. This should take about 20 - 30 minutes depending on the heat of the coals.
Using protective gloves, take the pot off the coals and place on a firm stable surface.
Use the potato masher to mash the cooked fruit till it is all "mooshed up".
Add one tub, about 1 cup of long life cream and stir through the thick vegetable broth. The cream adds depth to the flavor.
Taste test and add extra seasoning or water as you desired.
Step 4: Enjoy!
A little parsley or chives as garnish will be lovely if you've brought some with you on the camping trip.
Enjoy the meal while it's piping hot with freshly baked damper cooked in the coals.
As we're frequent campers with our kids, we review our collection of easy recipes to see if any recipe can be modified to suit camping conditions.
---
Leave Easy Camping Recipe to discover loads of cheap quick easy dinner ideas!