How To Cook An Easy Cobbler
In 20 Minutes!
Oh So Simple Pineapple and Coconut Cobbler Recipe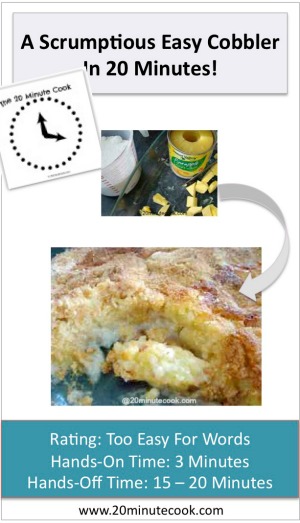 This easy cobbler recipe is uber lazy and very delicious. Shhh... I love this easy coconut cobbler recipe because it is a one-pot, straight from mixing, to the oven to the table type of recipe.
Easy Recipes Rating:  Too easy for words
Hands-on Time: 3 mins
Hands-off Time: 15 to 20 mins
Whip this up as you're sitting down to dinner and it'll be ready piping hot when it's time for sweets.
Easy Coconut Cobbler In 20 Mins


To make 6 - 8 serves you'll need:

4 oz/ 125 gm butter
1 small can pineapple pieces or slices
1 cup coconut
1/2 cup self raising flour
1/2 cup sugar


Preheat the oven to 420F/ 200C

Pop the butter into an oven proof dish and cut it up into small pieces with a blunt knife

Pour over the contents of the can of pineapple including the juices

In a measuring jug, measure the dry ingredients in the one jug, one after the other. Use the back of a blunt knife to mix well the ingredients

Pour loosely over the pineapple pieces.

Bake for 15 to 20 minutes till golden brown.

Step By Step Photo Tutorial
How To Cook Coconut Cobbler In 20 Minutes!

Tips From Easy Recipes
For Easy Cobbler

I save time by using the one jug to measure all the dry ingredients, one on top of the other. For example, I'd pour in the 1/2 cup measure of sugar, followed by another 1/2 cup of flour and topped with a cup of coconut.  Then use the back of a blunt knife, or a fork to mix the dry ingredients together well.  This trick of measuring all the dry ingredients in the same jug is just one of the little tricks on how to be quick about cooking. The other advantage is the reduced washing up.


Have a collection of bake ware that will go from oven to the table - this saves so much time.


You could substitute with any favorite canned fruit in place of pineapple. I've made the same cobbler recipe with peaches and apricots - it was basically what was in the pantry.


I love this time saving cobbler because it is a one-pot, virtually no washing type of recipe, and it's so delicious it disappears in one sitting.


Remember always to preheat the oven so that it's at an even temperature.


Everyone's oven is slightly different, so temperatures and times to get your baking just right may vary.


---