Easy Pumpkin Pie Recipe
Delicious Yet So Easy

In this last stage of the tutorial for this easy pumpkin pie recipe, we'll fill the pie crust shell you've made in step 1 with the tasty filling made in step 2.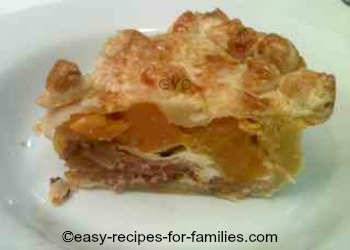 If you'd like the full recipe, just click on the button:
Final Steps To This Easy Pumpkin Pie Recipe
For this stage, you'll require:
5 eggs
Sheet of defrosted pastry, ideally puff
Remaining egg wash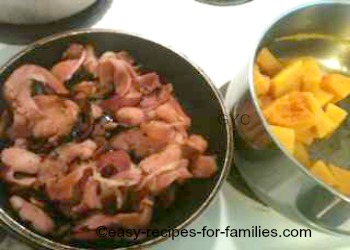 Before starting, just check that the oven has been turned on to preheat at 350F/180C.
To fill the cooked shell, start layering the filling, starting with bacon at the base.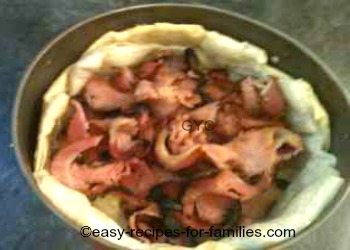 Spoon half the stewed pumpkin pieces as the next layer.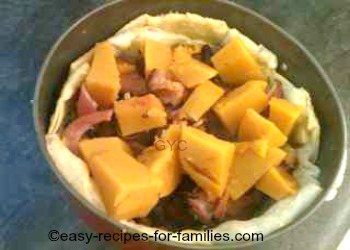 Crack the eggs and drop them whole into the pie filling, in different spots around the pie.
Notice the egg yolks in amongst the pumpkin? Yep, just drop them in unbeaten.
Using a fork or the tip of a sharp knife, prick the top of the yolk. This stops the yolk exploding in the pie.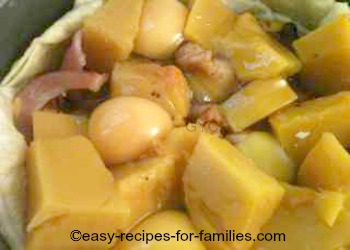 Top it off with the last layer using the rest of the stewed pumpkin pieces.
Arrange them so that there is a slight mound in the center to support the pastry top.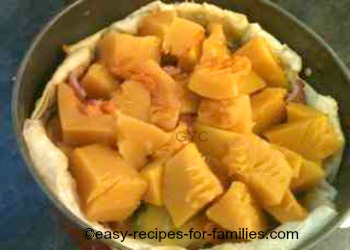 Top with the defrosted rolled-out sheet and decorate it as you wish. In this image, I've decorated with little bobbles of surplus pastry.
Using a knife or a pair of kitchen scissors, trim away the excess so that the sheet sits neatly and snugly over the cooked pie shell.
Cut 4 to 5 deep slits in the top as vents, to allow heat to escape.
Apply egg wash.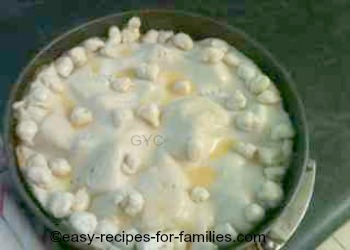 Bake for 30 minutes till golden brown.
Look at this - isn't this easy pie sensational?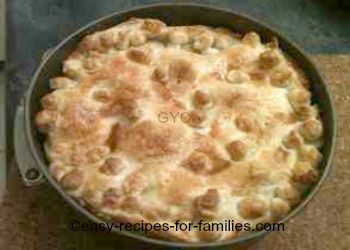 Allow to cool in the pan.
Then release the lever on the side of the springform pan making sure that the base is sitting stably on a flat surface.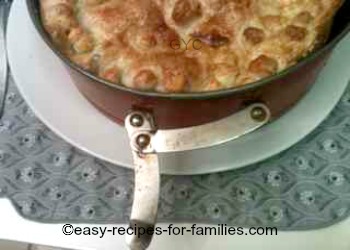 Remove the walls of the pan.
Slide the pie from the pan base onto a serving platter.
Does't this look fantastic!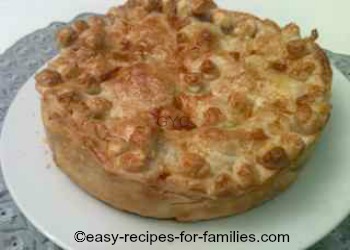 Enjoy!
This is such a yummy pie with blended flavors from bacon, eggs and pumpkin. It is superb!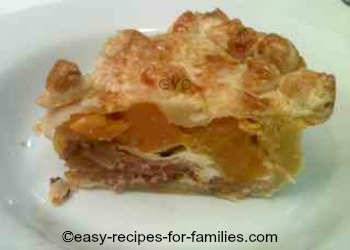 Now, wasn't this every so easy to make!
This goes perfectly with...
This easy pumpkin pie recipe made from fresh ingredients is a wholesome meal at dinner, served with beans and boiled potatoes. For dessert, we enjoyed a
pumpkin pound cake
drizzled over with thick cream. The meal made with these easy recipes, looked absolutely terrific!
---
Leave Easy Pumpkin Pie Recipe and find hundreds of scrumptious recipes with the homemade touch!