Easy Roast Beef Recipe
Budget Topside with Glistening Thick Gravy, Roast Potatoes and Onions with Sweet Peas

| | |
| --- | --- |
| | Related |
This easy roast beef recipe is one of my favorite cheap quick easy dinner recipes, as it takes just 15 minutes to prepare and then I can walk away while it's roasting in the oven.  A topside roast is an inexpensive cut and as long as it is not overcooked, this roast is delicious and moist.

Rating:   Very Easy

Hands-On Time:  15 minutes

Hands-Off Time: 1 1/2 hours


This recipe with roasted potatoes and onions makes 6 to 8 serves.

You'll require:

• 3 pound/ 1.5 kg Topside

• salt, pepper, oil

• 2 tsp french mustard

• 8 washed whole potatoes, cut into chunks

• 4 large onions, peeled and halved




How to make the roast beef


• Preheat oven to 390F/200C

• Rub the oil, mustard, salt and pepper into the roast. If you have time, allow it to marinade for a couple of hours

• Line a roasting pan with baking paper and roast for 1/2 hour

• Prepare vegetables. Add to roasting pan

• Turn heat down to 320F/160F and bake for 1 1/2 hours

• Make 1 1/2 cups gravy and prepare the peas.

• Allow the meat to rest for 10 minutes before carving. Then slice against the grain and serve with gravy and peas.



Tips For Easy Roast Beef

The quick way to make a tasty gravy  is to use gravy mix - it's so easy to do - just follow the instructions on the packet to dissolve the gravy mix with hot water. I make gravy in a glass measuring jug so as to correctly measure the quantity of hot water


If you're a traditionalist, make gravy from the pan juices. Pour the juices from the cooked roast into a small saucepan, add some flour and mix till there are no lumps. Add seasoning to taste


To save time, frozen vegetables are quick to prepare by quick cooking in the microwave oven. Frozen veg are good to have and are as good as fresh vegetables as they are snap frozen so retain all their goodness


It's important to allow the meat to rest for 10 minutes before carving. The meat does continue to cook internally and firms up so that it is easier to carve after resting


Always use tongs instead of a roasting fork to hold the meat. Handling with tongs means the juices are retained


We slice up the entire roast and freeze the surplus in zip lock bags. It makes for yummy roast beef sandwiches.

Gallery

Slice the meat against the grain.

Notice how tongs are used to hold the roast in place, rather than a roasting fork? This keeps the juices in the meat rather than bleeding into the pan.

The potatoes and onions are roasted in the same pan - this really is one pot cooking that produces a tasty result.


Prepare the peas 5 or so minutes before the meal is served. We cook frozen peas in the microwave to retain its plumpness and natural sweetness.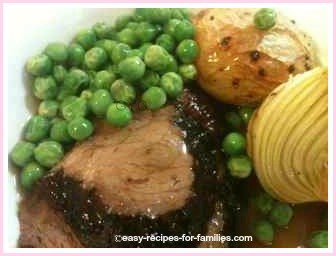 Isn't this gorgeous!  A moist meaty roast with glistening thick gravy served with roast potatoes in their jackets,  sweet roasted onions and plump peas.
You couldn't enjoy a better winter meal.
---