Easy Egg Custard Recipe
I whipped up this easy egg custard recipe yesterday. This is from one of our super easy recipes.

This took less than 5 minutes to beat the eggs and combine the other 2 ingredients, and into the oven it went for an hour and 15 minutes while we had our dinner.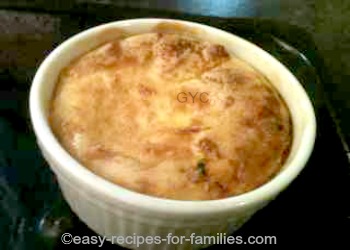 Ingredients

Equipment: Oven proof casserole dish
Eggs
Sugar
Milk
Brown Sugar
Knob of butter
Step 1:
Before you do anything else, preheat the oven to 320F/160C.
Place 2 teaspoons of brown sugar and a shaving of butter into each ramekin.
Step 2:
Beat the eggs, then add the remaining 2 ingredients.
Pour into ramekins.
Here are the four ramekins filled with egg custard ready for slow baking.
Step 3:
Bake for 1 hour and 15 minutes.
Here they are...beautifully baked!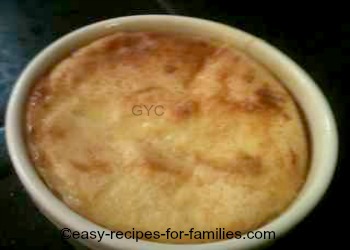 This recipe serves 4 persons.
Just Add
Prepare
• 8 ts brown sugar

• a little knob of butter

• 5 eggs, beaten

• 1/2 cup sugar

• 2 cups milk



• Preheat oven to 320F/160C

• Into 4 ramekins (these are individual oven proof bowls), put 2 teaspoons of brown sugar in each and small shavings of butter

• In a mixing bowl, beat eggs. Add the remaining 2 ingredients and combine well

• Pour into ramekins. Bake for 1 hour and 15 minutes till lightly golden brown.


Egg custards are best served freshly baked. My family loves custards as they're just so homey and warming.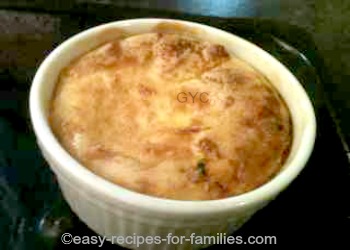 Now, how easy was that!
Tips
As a substitute, use maple syrup in place of brown sugar.
Here's an optional step to this recipe. To prevent the custard from sticking to the ramekins, you could grease the insides of the little dishes. Although I don't do this for my family as it means yet a little more fat being consumed.
---
Leave Egg Custard Recipe to browse through hundreds of delicious easy recipes and scrumptious easy desserts!