Burmah Road
A Heritage Recipe For An
Easy Rice Pudding
This easy rice pudding is a heritage recipe that my Dad enjoyed as a boy in Lancashire before WWII.  It's called "Burmah Road" no doubt named after Burma where rice was grown and sourced for markets in Europe.
Rating: Extremely Easy
Hands-On Time: Under 5 minutes
Hands-Off Time: 2 1/2 - 3 hours
Ingredients: 4
Steps: 1 then bake
These few ingredients make the yummiest dessert!



Equipment: Oven proof casserole dish
a couple of knobs of butter
rice grains
sugar
milk



Here is the original heritage recipe from
Grandma's Lancashire Cookbook

Ingredients:

• 2 oz pudding rice or flaked rice

• 1 pint milk

• 1 oz sugar

• 1/2 oz butter




• Preheat oven to 300F

• Soak rice grains for 30 minutes

• Combine all ingredients

• Bake for 2 - 2 1/2 hours

• For a creamier texture, stir gently three times in the first hour
This is the effect we're after -  a creamy rice pudding with a crusty caramelized top.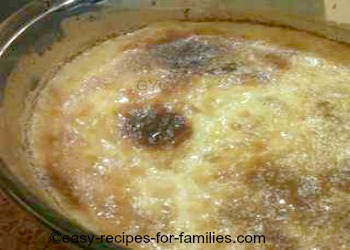 Burmah Road, Easy Rice Pudding
The Modern Day Recipe

Just Add:

• 1/4 cup short grain rice

• 3 1/2 cups full cream milk

• 1/3 cup sugar

• 1/2 oz/ 15 gms butter

• Preheat oven to 300F/ 150C

• Combine all ingredients in a deep oven proof bowl

• Bake for 2 1/2 - 3 hours

• Stir gently three times at 30 minutes, 1 hour and 1 1/2 hours, before a crust forms, then leave it to bake for 1 - 1/2 hours.
Easy Recipes Tips

Use a blunt metal knife to stir the mixture while in the oven as it cuts through the mixture smoothly. Stir before the crust forms


Don't omit the addition of butter. It adds to the smooth texture of the pudding.
About Burmah Road


I tried this recipe over a couple of evenings this week and my husband says this is the best of all my collection of rice pudding recipes. This is now added to the repertoire of cheap quick easy dinner recipes and it is also a worthy inclusion to our easy dessert recipes.

Dad explains that rice pudding used to be called "Burmah Road" and that English families enjoyed this weekly as rice was part of their weekly food rations during the war.

Flaked rice is the term for broken pieces of rice and generally regarded as a poor quality.  It explains why the heritage instructions call for the use of "pudding rice" or "flaked rice". These are terms we hardly hear of in these modern times as the standard of rice in supermarkets is now of a very high grade.
I've amended the heritage recipe to use rice grains obtainable from modern day supermarkets and after some experimentation, I've definitely nailed it! This easy rice pudding is incredibly delicious!

The trick to get the rice pudding creamy is to stir before the skin sets on the pudding. So, stir it every 30 minutes during the first 1 1/2 hours of baking.

While this makes the recipe fiddly, the end result is a creamier pudding. I think it is worth the effort.

I've included both the original heritage recipe and my interpretation which uses rice available in supermarkets. I've never seen broken or flaked rice for sale at Woolworths, or any of our supermarkets, so I have experimented using the usual short grain rice available.
---