Healthy Chicken Recipe
done in 20 minutes!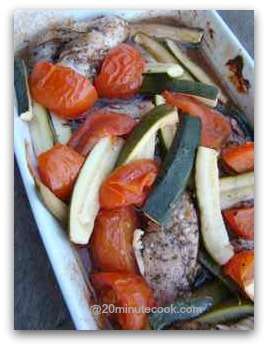 This healthy chicken recipe is cooked in the oven and done in all of 20 minutes! The secret to working quickly in the kitchen is to make a one pot dish and allow the oven to do the work.
Rating: This recipe is Incredibly Simple And Fast

Hands on time : 10 minutes
Cooking time: 20 minutes
Moist Chicken Breasts On Table Fast!

This easy chicken recipe serves 2 - 3 persons

2 chicken breasts, each sliced to halve thickness


1 tb garlic granules


1 tb olive oil


3/4 cup red wine


salt, pepper


3 sprigs rosemary


2 zucchini, sliced


2 tomatoes, sliced

Marinade the chicken meat before you head off to work, with all ingredients except the two vegetables


Preheat the oven to 460F/220C


Decant the marinaded meat into a roomy oven proof dish


Add cut vegetables
 
Throughly wet parchment or baking paper and cover the dish


Bake for 20 minutes






Tips For Easy Recipes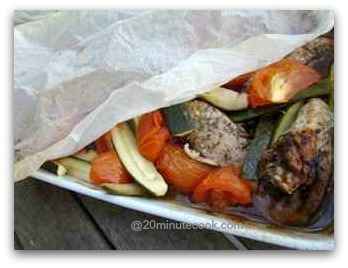 To keep your cooking in the oven moist, cover with parchment or baking paper that is thoroughly wet through. Squeeze out most of the moisture and cover the dish, tucking the paper into the sides


For meat to be infused with flavor, marinade for at least 2 hours. The easy way to do this is to pop all the ingredients in a sealed plastic bag, moosh it around so the marinade is evenly distributed and leave it in the 'fridge, till ready to use


This may be an easy chicken recipe, but don't make it even easier by marinading in the oven proof dish. Unless you have a dish that's fridge to oven safe,  the change in temperature will cause it to crack


Keep cooking times minimal for any recipe by slicing the meat to reduce thickness. The key to a healthy meal is to minimize cooking time.


Keep your easy chicken recipe healthy by only ever using good quality olive or rice bran oil


The secret ingredient to add depth of flavor to a healthy dinner recipe, is the garlic granules - you purchase these dried in little jars from the supermarket

---