Easy Healthy Kids Recipes
Healthy Chicken n Veg Kebabs
This recipe fits the bill for healthy kids recipes. This kebab takes just 4 ingredients and another 2 ingredients for the sauce.
Kids can safely make healthy kebabs on a little grill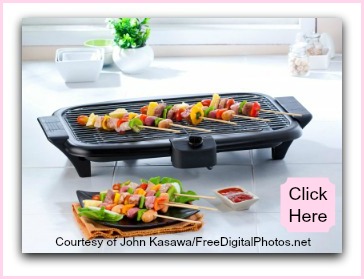 This recipe although it is simple for the children to prepare themselves, will require your supervision as the kids will be handling sharp skewers, a small knife and the use of the grill.

Healthy Chicken n Veg Kebab
This recipe makes 4 skewers.
You'll require:
• 2 chicken thighs, skinned and de-boned, cut into 1 inch cubes

• 12 cherry tomatoes

• 1 green capsicum

• 12 small mushrooms

• 4 skewers

• 1/2 cup soy sauce

• 1/4 cup honey

• EQUIPMENT - Sharp small knife, 4 skewers, grill, measuring cup, chopping board

Here's how to prepare the kebabs:

• Cut the fillets into 1 inch cubes. This should produce 12 cubes of meat.

• Wash all vegetables

• Dice the green bell pepper/capsicum into 1 inch squares

• Carefully skewer the cubes of meat, then bell pepper, then tomato and mushroom. Repeat this pattern twice more on each skewer

• In a bowl mix the seasoning of soy sauce and honey

• Lay the full skewer on a chopping board. Brush the seasoning over the meat and vegetables. Turn the skewer so that the glaze is brushed over all sides

• Pop skewers under the grill or on the BBQ for about 20 minutes till the chicken is cooked. Turn once at half time.


Now, wasn't this healthy recipe incredibly simple to do!
Enjoy!
Tips From Easy Recipes
Kids, be sure to:
Wash up as you go so that all your work space is always clean and hygienic.
Always wipe up spills immediately to prevent accidents, for example, someone slipping on the spill.
Always wash your hands with soap and water BEFORE handling food.This is to prevent dirt and germs that we pick up from being transferred to the food.

---
Leave Healthy Kids Recipes to explore hundreds of delicious healthy recipes the family will love!