How To COok Chicken BReast
20 Minute Easy Recipes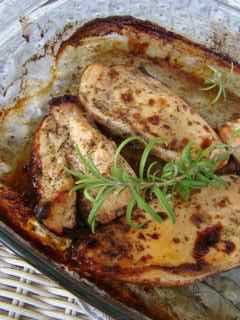 On this page you'll learn how to cook chicken breast quickly. The key is the meat from this cut is delicate and has very little fat, so it must cooked quickly to prevent it going tough and tasteless.
The quicker the cooking the tastier the result.
Master this quick recipe on how to cook breast meat with very little effort and toss it in salads or enjoy as is. Once roasted, it is fine to freeze to use for later.

Rating: Very Easy
Hands-On Time: 5 mins
Hands-Off Time: 15 - 20 minutes
Cook Chicken Breast In Under 20 Minutes


For 2 - 3 serves you'll require:

2 chicken breasts
1 tbs oil
2 tbs red wine vinegar
salt, pepper
2 ts sugar

Preheat the oven to 460F/ 220C


Slice in half each breast to reduce the thickness. The objective here is to reduce the thickness of the chicken breast so that they cook evenly


In the roasting tray, mix oil, red wine vinegar, salt, pepper and sugar


Place the meat and swirl them around the marinade so that it is evenly covered


Place the tray in the center of the oven and bake for 15 - 20 minutes


Serve hot on a bed of vegetables

This recipe is so incredibly easy it takes only 2 photos to illustrate how to cook this recipe for breast meat!
Place the thinned breast meat onto the roasting dish with the marinade. Notice I use a rectangular oven proof glass dish so that it can go straight from the oven to the table.


Swirl the meat around so that the marinade is even spread around


Roast in the middle of a hot oven for 15 minutes



At 15 minutes use tongs to turn the meat over


Continue to roast for another 5 minutes or until golden brown


Serve immediately


You can cook this ahead to freeze for later use

Check out these delicious and very easy recipes using breast meat:

---