Le Creuset Silicone Cool Tool
Pot Handle Sleeve

Pot Handle Sleeve Le Creuset Marseille 5.75x2-in.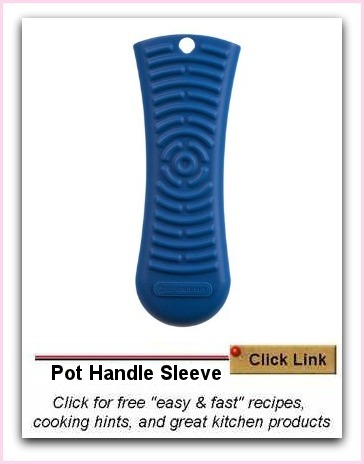 Click here to learn more about and buy the

Le Creuset Silicone Cool Tool Handle Sleeve, Marseille

About
Le Creuset Pot Handle Sleeve

Use the handle sleeve to protect hands from the heat of metal pot handles, when moving pots from one burner to another or from the burner to the grill.  This tool is designed to provide secure grip as well.

The sleeve:

is a Cool Tool™ handle sleeve
is stain-resistant and non-abrasive
is dishwasher-safe
is made from premium-quality silicone

is heat-resistant up to 482°F/250°C
has a convenient hole for storing on a hook
 

I've found a handle sleeve is much safer to use than thick oven mitts or thickly rolled tea towels as the sleeve gives a firm non-slip grip on the pot handle. 
I use this essential kitchen tool to move pots and skillets from burner to burner or to and from the oven.  A good quality sleeve like this one from Le Creuset will last years, and it's surprisingly affordable.

---