Pumpkin Pie From Fresh Pumpkin
In this last stage of the tutorial to make a no bake pumpkin pie from fresh pumpkin, we'll fill the crumb crust you've made from scratch.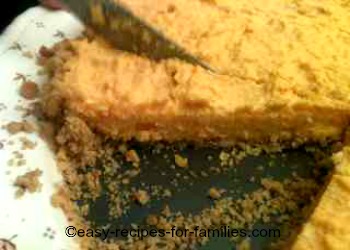 Final Steps To The No Bake Fresh Pumpkin Pie
For this stage, you'll require:
Step 1: Fill
Spoon all the fresh pumpkin filling into the chilled crumb crust.
Level it out with a flat spatula or knife.
Make a rough swirl pattern on the top of the filling. You may prefer this to a smooth surface.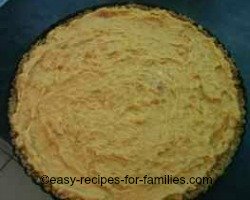 Your fresh pumpkin pie is done. Now, place it in the back of the refrigerator where it's coldest and chill for 4 hours.
Now isn't this just lovely!
And it was so easy to make too.
To serve, remove the walls of the removable flan pan and slide the pie, sitting on the base onto a beautiful serving platter.
This makes a really lovely light dessert and is ideal for warm summer evenings when you feel like eating something sweet, but not too heavy.
This goes perfectly with...
This no-bake pumpkin pie made from fresh ingredients is just right for afternoon entertaining or for a pot luck dish. Another terrific super treat that would go well is the
little ham and egg "pielets"
which are so easy to do, it's embarrassing. Shhh...they look sensational!
About Pumpkins
The beauty about pumpkin is its versatility. I love cooking with this fruit because it absorbs the flavors around it and the natural subtle flavor blends in well with just about most recipes.
What's more, pumpkin is so simple to cook with and the fresh orange color brightens a plate or a meal. Have you tried
pumpkin with chocolate brownies
- they are simply sensational!
Pumpkin includes butternut squash which I've found is easier to handle, mainly because it's not quite as large and the tough skin is easier to remove.
---
Leave Pumpkin Pie From Fresh Pumpkin and find hundreds of delicious recipes with the homemade touch!