Bobs Red Mill Couscous
Golden Couscous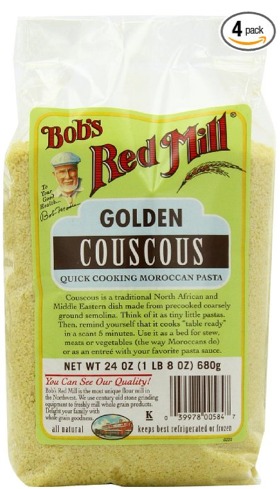 Bobs Red Mill Couscous Golden, 24-Ounce (Pack of 4)


About Bobs Red Mill Couscous

This high quality product is the Golden Couscous and is fresh tasting


It comes in a 24 ounce bag, in a pack of 4, total 96 ounces


Kosher certified


Trans fat and Cholesterol free


Couscous is incredibly easy to cook. Just add boiling water and fluff! Truly. Click here to learn how to cook couscous just right.
75% of reviewers give this a 5 star rating


It arrives with good packaging and reviewers report it tastes fresh and is golden as promised. It's fresh, filling and tasty


I use couscous as sides, adds body to  soups and salads, and it's a terrific staple for vegans


Tip:  While the standard measurement says 1 cup of dry grain makes 4 serves, I find that's really not enough. For our family, 1 cup would do 3 serves of sides. 

---