How To Cook Couscous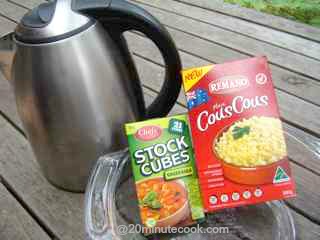 To make 4 servings of sides, you'll need
1 c couscous grains


1 c boiling water


Optional - 1 stock cube


a lidded bowl

| | |
| --- | --- |
| If using stock cubes be sure to dissolve them firstly | I use my trusty pyrex casserole dish which has a fitted cover. The cover keeps the heat in and helps with the absorption. |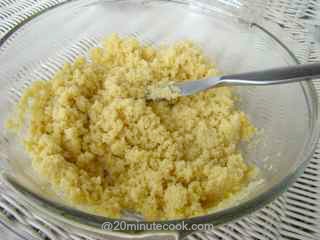 Here's how you cook the couscous:


Step One:  Mix the ingredients together

Place the couscous into a bowl that has a fitting cover


Either pour in the boiling water


Or if you want the couscous seasoned, add the stock cube to the boiled water, stir to complete dissolve then pour over the grains


Use a fork or blunt knife to mix it well


Cover with the lid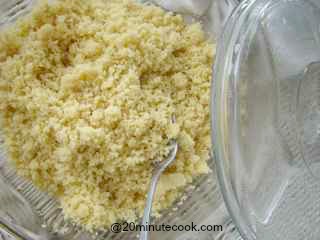 Step Two: Fluff It Up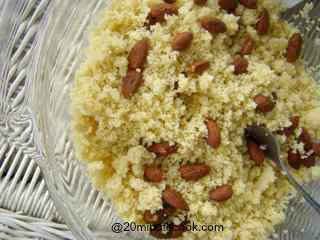 To add interest, I added dry roasted almonds. You can experiment with all sorts of variations including:
chopped parsley and some torn mint leaves


raisins with flaked almonds


chopped spring onions with small diced capsicum. Don't use tomato as it is too soft and wet - it'll make your couscous gluggy


leaving it plain seasoning it with a little salt and pepper.  This is best if this sides is to accompany an overly tasty hero main. You don't want too many super tasty dishes as it becomes overwhelming for the taste buds


This grain included in tabouli makes the salad a little more filling.

Tips From Easy Recipes

Cover the couscous with a lid helps the grain plump up with the internal heat from the boiled water. I use my trusty pyrex bowl with a cover for this purpose


Don't be tempted to add just that little bit more water - it only become gluggy. So, stick to the manufacturer's instructions or to the recipe as above


Sometimes we serve with added dry roasted almonds, cashews or any other nut to add some interest


It's flavorsome to add a half a bunch of roughly chopped parsley through the couscous too


Couscous is used to make tabouli, a salad of finely chopped parsley, spring onions and finely chopped nuts. It's so powerfully flavorsome that it needs the grain to temper the richness.