This quick chicken recipe, a soy and garlic chunky tenderloin stir fry, tastes sensational and is on the table in all of 15 minutes!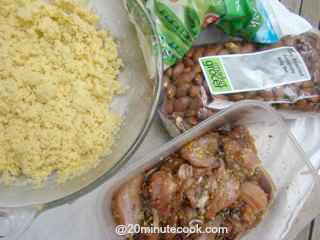 This recipe makes 4 servings. You'll need:
1 pound/ 500 gm chicken tenderloin cut into chunks
1/2 ts garlic granules
1 tb soy sauce
1/2 ts sugar
salt and pepper to taste
1/2 tb cooking oil

1 cup frozen or canned peas
a little water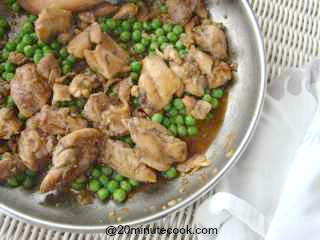 Here's how to put it together:
If you have time, toss all the ingredients except the oil and peas in a storage container and allow to marinade in the refrigerator. You can do this over night, or in the morning before heading off to work.
Heat the oil in a skillet and when hot toss in the marinaded chicken. Fry to brown then turn the heat down so it doesn't burn. If you need to add a tablespoon or two of water to help it cook without burning.
Lastly, just before serving, toss in the peas and stir to warm the through.
Serve immediately.
This recipe is very quick to make - it only takes about 15 minutes for the chicken meat to cook through.
Serve with couscous stirred through with dry roasted almonds.

Simply delicious!