Delicious Chicken Paella Recipe
Ready in 20 minutes!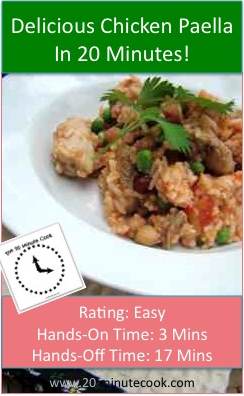 Make this awesomely easy one-pot chicken paella recipe.
Easy Recipes Rating: Easy
Hands-On Time:  3 mins
Hands-Off Time: 17 mins
Chicken Paella in 20 Minutes


For 4 - 6 serves you'll need:

1/2 pound/ 250 gms chicken thigh fillet pieces
1 tbs oil

1 cup rice
1 1/2 cups water
2 stock cubes
1 tb garlic granules
1 tb oregano
1 can diced tomatoes
1 can beans of any sort, drained.  They can be five bean mix, chick peas, red kidney beans
1 cup frozen peas


Make this paella recipe in a large sturdy pot, throw in the chicken pieces with the oil, garlic and oregano. Fry a little to brown.

Throw in the rice grains, stir well.

Pour in water with the crumbled stock cubes. Add the canned tomatoes.


Bring to a rapid boil then turn the heat down to simmer.

DO NOT STIR.


In the last 3 minutes, stir in the beans and frozen peas.



Tips From Easy Recipes
Chicken Paella Recipe

For any rice recipe, to make sure it does not stick to the bottom, DO NOT STIR. Once water has been added to the rice, LEAVE IT ALONE while it's cooking. It's the same with risotto. Once you stir a risotto, you have to keep stirring it to prevent sticking to the base of the pot. 


I make this paella recipe with previously cooked chicken. It's so convenient to cook up a large batch of garlicky herbed chicken pieces to freeze. When using pre-cooked chicken, I add it to the paella in the last 5 minutes of cooking to warm it through. 


The previous evening I made a garlicky herbed chicken spaghettini. Having cooked double quantities of chicken, half went into this paella. The family would not have known any different as the flavors are completely different!


It's fine to use your favorite can of beans, or whatever you have in your larder. I used five bean mix in this recipe as that was what was available. But white beans, chick peas, kidney beans are all fine.


The secret though, is not to cook the beans or they'll go all mushy. Just stir them through the paella to warm them.


The same rule applies when you cook with frozen peas. Never cook them unless you want mushy peas. The idea is to warm them through, so just stir them through the paella at the last stages.


Now did I mention, don't stir the rice while it's cooking?


---