Photo Tutorial For
A Flaky Shortcut Croisant

We make this easy short cut croisant which is puff pastry sheets cut to size and rolled into the shape of little crescents.  On this page are the simple steps on how to make our shortcut croissants.
To go to the recipe, click on Page 1 and you'll also find our detailed tips on how to get this just right!

A nest of shortcut croissants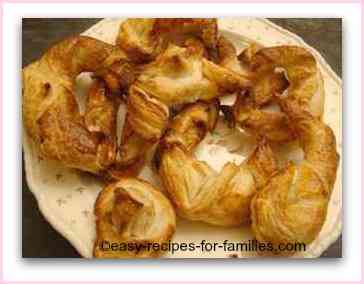 Deeply mark the thawed puff pastry sheets across the diagonal to create 4 triangles and butter liberally just like in the photo.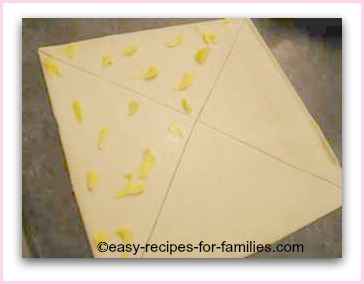 Now, roll each triangle to form a loosely rolled crescent shape. See how the rolls have gaps to the inside of the shape? This is important so as to allow hot air in the oven to travel through to the inside and cook it evenly.

Don't worry about it being open, as when baked, puff pastry swells and closes up the croisant shape.
But it is important that hot air from the oven find a way to cook through the inside as well. That's how to get the inside flaky too.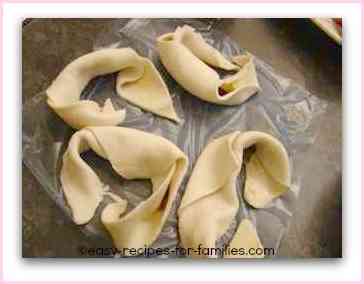 Here is a variation. Below, we've used double layers of rolled puff, so as to achieve a fuller look. But see in this picture, too, the roll is loose and there is a cavity to allow hot air from the oven to traverse through into the inside of the croissants, for even cooking.

Here are more variations to the basic recipe:
In this picture, I've doubled the sheets making sure to dot butter in the layers between sheets.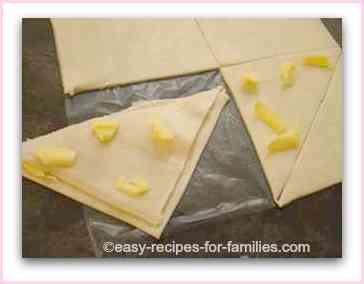 Here are a couple more variations.
Be sure to butter the sheets firstly before layering on shredded cheese or jam.

Bake at 430F/200C for 17 minutes and then turn the heat down to 380F/190C to allow the insides to cook further without more browning.  Follow the instructions on the recipe for a guide to temperature and times.

When baked, allow to cool for 10 minutes before handling - the croissant continues to cook internally when out of the oven.
See how when cut transversely, the pastry inside is flaky and dry.
...not as lovely as the real thing, but nonetheless, really easy to make and tasty!
---
Home | Baked Treats | Short Cut Croisant, A Photo Tutorial