Mouth Watering
Easy Curry Chicken Recipe

You can't go past this  very easy and tasty easy curry chicken recipe. It really is a matter of tossing in the meat, cook with the special sauce, then add the remainder of the ingredients and that's it!

This curry chicken recipe is just so very more-ish.

This recipe serves 6 - 8 persons and goes well with fluffy white rice and a separate sides of lovely fresh greens.

Rating:  Very Easy
Hands-On Time: 30 minutes
Hands-Off Time: 0
Ingredients:  5
Steps: 1

An Easy Curry Chicken

You'll need:

•    2 lb/1 kg chicken thigh fillets, cut into large pieces
•    1 packet A! Curry Chicken Sauce
•    1 tin/ 8 oz/400gm diced tomatoes
•    3 potatoes, quartered
•    1 tin/8 oz/400 gm thick coconut milk
Here's how to put this easy curry together:

•    Into a hot pan, cook the chicken meat
•    Add in the packet of curry sauce
•    Cook for 5 minutes
•    Add in tinned tomatoes and quartered potatoes
•    Cook on moderate heat for 20 minutes
•    Lastly, add coconut milk. Cook for a further 5 minutes.

This is a delicious meal and you'll find that leaving this overnight allows the flavors to soak into the chicken and it's even more delicious the next day.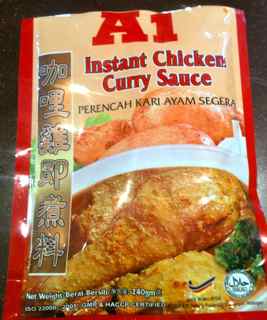 I've tried different curry sauces and have found this A1 Instant Curry Chicken Sauce, the best as it is not too spicy/hot and has depth of flavor.


Now, how easy was this curry!


Tips From Easy Recipes

To make this a healthy recipe, do take the time to trim fat off the chicken meat as its unhealthy saturated fat.

Select chicken thigh meat rather than breast meat as chicken breast meat becomes tough and is easily over cooked, in dishes such as casseroles and curries.


---
Leave Easy Curry Chicken Recipe to be inspired by hundreds of mouth watering easy recipes!