Easy Dessert Recipe
Quick Pud

I whipped up this really easy dessert recipe in under 10 minutes and popped it in the oven to bake while we were eating our dinner. It was piping hot and ready to serve when it was time for dessert.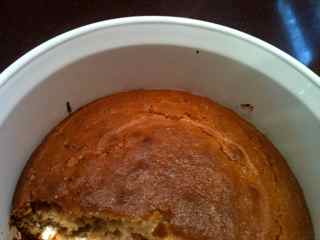 Rating:
Easy
Hands-On Time:
under 10 minutes
Hands-Off Time:
30 minutes
Ingredients:
6
Steps:
1 then bake
My Quick Pud, a golden syrup pudding, is delicious served with vanilla ice cream.
This dessert recipe makes 6 servings.
Just Add
Prepare
• 1.5 oz/50gm butter

• 1/2 cup sugar


• Turn on oven to 350F/180C

• Melt butter in a saucepan on moderate heat

• Add sugar and combine well


Combine
• 1 egg, beaten

• 1/4 cup milk

• 1 cup self raising flour

• 1 tbsp golden syrup

• Additional 2 tbsp golden syrup


• Add in eggs and milk. Combine well

• Add in flour. Mix in

• Add 1 tbspn golden syrup and combine well

• Into a deep casserole dish, pour over 2 tablespoons of golden syrup

• Pour in the batter


Bake
Bake for 30 minutes till just lightly brown
Serve hot straight from the oven with light vanilla ice cream or a dusting of icing sugar.
Now, how easy was this dessert recipe!
This quick pudding is just a matter of throwing in and mixing the ingredients and pop into the oven. The best part is these are more than likely already available in your pantry.
Tips
Don't leave it in the oven a moment longer than necessary as the golden syrup will harden and become like toffee. The effect you want to obtain for pudding recipes is a soft, moist, comforting and warming dessert and toffee just doesn't cut it for a pud.
---
Leave Easy Dessert Recipe to discover hundreds of scrumptious yet so easy recipes!