Healthy Spinach Dip Recipe

Whip up this delicious and so easy healthy spinach dip recipe. The recipe is inspired by an original appetizer by our featured cook, Sophia Brown and has been made healthier substituting with lite cream cheese, lite mayo and frozen spinach. Enjoy with crusty cob loaf torn roughly, just like in the photo.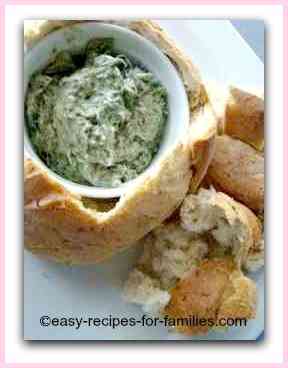 Spinach Dip Recipe

You'll need:

1 tbs olive oil


2 ts garlic granules or 1 clove, diced finely


8 oz /250gm frozen spinach


1 c lite Philadelphia cheese


1 c lite mayo


1 pkt (powdered) vegetable soup
Plonk the frozen spinach into the saucepan just like this, and fry with oil and garlic.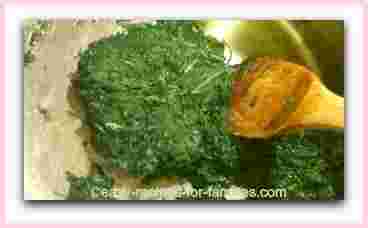 When the spinach has defrosted, add the philly cheese and mayo, just like this and give it a good stir.

Here's how to make the spinach dip:

In a roomy saucepan, heat the oil, fry the garlic granules and frozen spinach. Keep stirring till the spinach has defrosted and is warmed through


Pop in the remainder of the ingredients. Stir well to combine


Spoon some of the dip into a little bowl


Open up the cob, tear pieces roughly to serve alongside the loaf


Create a well in the center. Place the bowl of dip into the well.
Enjoy!
Tips
This recipe above is the healthy version of a full flavored spinach dip recipe.  The full flavored original recipe,  uses a knob of butter in place of olive oil, sour cream instead of lite philly and a full bodied mayonnaise.  It really is sensationally delicious but unfortunately not so healthy.


This is an ideal make-ahead appetizer recipe so all you have to do on the day of the party is buy the fresh crunchy cob, tear it up to make the well and fill it with a bowl of this marvelous dip.


This dip recipe is suitable to be frozen for use later.


I've also seen a version of this dip recipe poured directly into the well of the cob. It makes a delicious pull apart snack when the party's over!
  
Always present your dishes beautifully. Consider using a lovely wooden serving tray just like the one on the right column, to serve the cob.

---
Easy Recipes  >  Party Food  > Appetizers >  Healthy Spinach Dip Recipe