Homemade Banana Pudding Recipe
South Pacific Dream


This homemade banana pudding recipe, our South Pacific Dream Pud, is incredibly simple to make and prepared in under 10 minutes and baked for 15 minutes.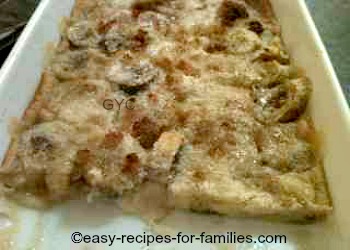 Either have the banana pud hot straight from the oven, or make this recipe ahead of when it is required and serve it cold. This recipe is yummy either way.
Rating:
Incredibly Easy
Hands-On Time:
10 minutes
Hands-Off Time:
15 minutes
Ingredients:
6
Steps:
2 then bake
This pudding has the ingredients to remind you of a South Pacific Vacation - coconut palms, banana groves and a feisty tropical rum!
Ingredients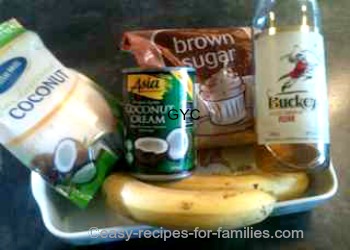 Slice the banana onto the base of the oven proof baking dish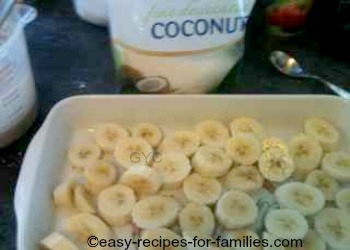 Combine the other ingredients. Pour this mixture over the sliced banana.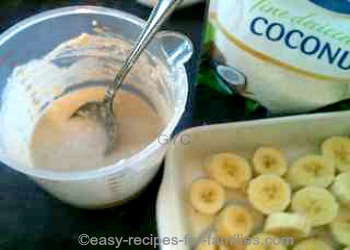 Top the banana pudding with sprinkling of brown sugar and coconut and bake for 15 minutes till golden brown.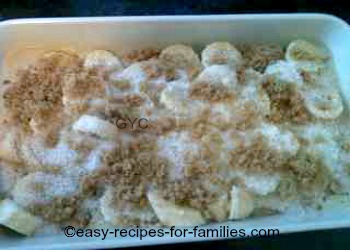 Here it is - Baked!
Serve immediately or make ahead and serve cold.
Either way, it's the same result - DELICIOUS!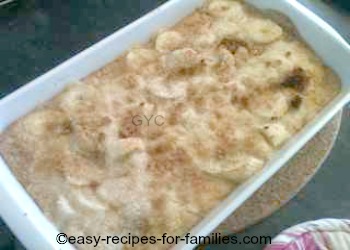 Just Add
Prepare
• Banana - 3 large bananas or 4 medium

• 1/2 tb brown sugar

• 1/2 cup coconut cream

• 1 heaped tbs self raising flour

• 1 tbs rum

• Topping - 2 tbs brown sugar

• Topping - 1/4 cup dessicated coconut



• Preheat the oven to 360F/180C

• Using an attractive oven proof dish, slice the banana and place it evenly on the base of the dish

• Combine all the other ingredients (other than the topping) to make a thick mixture

• Pour the mixture evenly over the bananas

• Top with brown sugar and dessicated coconut

• Bake for 15 minutes till golden brown


Beautiful and fresh from the oven
Serve hot or cold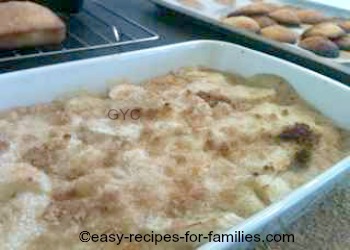 Enjoy this homemade dessert recipe, either hot or cold, as you wish.
For summer, have this homemade South Pacific Dream Banana Pudding with vanilla ice-cream. It's refreshing, tropical and ideal for languid summer days.
Now, how simple was that! Don't you just love recipes like this where it takes just minutes to put together and the washing up's minimal. I just love no fuss homemade recipes that can be whipped up in no time.
Tips
Children may find the taste of rum too strong so you may want to vary this recipe by omitting the liqueur. Make one for the children and another boozy version for the grown-ups.
---
Leave Homemade Banana Pudding Recipe to browse through hundreds of delicious yet so easy recipes.