Homemade Bread Recipe
No Yeast No Butter
Cheesy Apple Loaf
| | |
| --- | --- |
| | Related |
Homemade Bread Recipe

No Yeast Apple n Cheese Loaf/Bread

Rating: Easy

Hands-On Time: 10 - 15 Mins


Hands-Off Time:  35 Mins

This is my homemade bread recipe, made without butter and without yeast. Make this savory loaf by combining a good quality cooking oil with flour, then all the other ingredients.
It is ever so easy to make and the result is a healthy, tasty bread, ideal for snacks and for school lunches. Make this bread for picnics or to serve at brunch.
No Yeast Cheesy Apple Bread
This recipe makes 2 loaves of no yeast bread.
This savory bread recipe is ideal for freezing.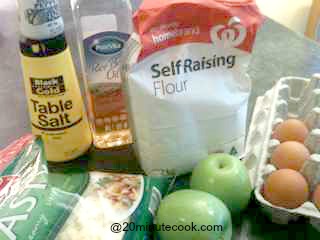 You'll need:
• 3/4 cup rice bran oil

• 2 cups self raising flour

• 2 cups shredded (sharp tasting) cheese

• 2 apples,diced

• 2 eggs, beaten

• 1 cup milk

• salt and pepper to taste
Here's how to put it together:

• Preheat the oven to 360F/180C

• Mix flour with the oil. Combine. It will look like clumps of dough

• Add all the other ingredients, leaving 1/2 cup of apple and 1/2 cup of cheese for the topping

• Spoon the batter into the non stick, silicone baking "tins". Otherwise, line and grease the loaf tins

• Top with the apple and cheese

• Bake for 35 minutes till golden brown
Just Follow the Photo Tutorial
No Yeast No Butter Homemade Bread Recipe

| | |
| --- | --- |
| Mix the flour with the oil. It will look like small clumps of dough | Throw in all the other ingredients and combine well. |
Spoon the batter into non-stick bakeware loaf molds.

Top with the remaining cheese and diced apple.

Bake in a moderate oven for 35 minutes till beautifully golden brown.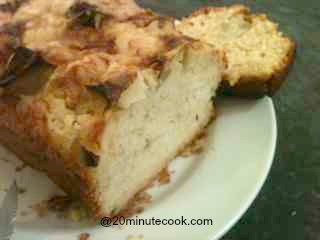 Look at this appetizing homemade recipe! Serve thickly sliced.
We love it with lashings of butter and for a healthy low fat preference, it is delicious with low fat cream cheese.

Tips For No Yeast Homemade Bread

I only ever use silicone or non-stick bake ware so as to avoid the step of greasing and lining tins. Furthermore, greasing does mean consuming additional fat which we do our best to minimize


We try to be careful not to consume too much saturated fat, like butter. As much as we love the taste and texture of butter, consuming too much does bring problems with cholesterol. So, where possible, for homemade yummies substitute with rice bran oil


To save time, look for a homemade recipe like this where cooking takes minutes and the washing up minimal


Homemade is best as long as you select the best quality ingredients. I like knowing exactly what it is being consumed.

---