Rustic recipe for chicken soup

| | |
| --- | --- |
| | Related |

Recipe For Chicken Soup With Garlic and Ginger


Easy Recipes Rating: Easy

Hands-On Time: 10 mins


Hands-Off Time: 30 to 40 mins




Easy Rustic Recipe for Chicken Soup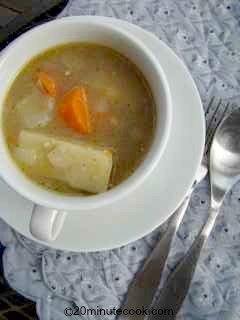 This soup recipe makes 6 serves. You'll need:
1 fresh chicken carcass
2 onions, diced
3 carrots, peeled and diced chunkily
3 large potatoes, peeled and quartered
6 cups water
1 heaped ts ginger (powder)
1 heaped ts garlic granules
salt and pepper to taste
optional ( 1 ts sugar)

To make the soup
Toss all the ingredients into a large soup pot


Bring to a boil then turn the heat down to a rapid simmer for 30 to 40 minutes till the potatoes are cooked


Discard the carcass


For a rustic look, serve the soup as is with chunks of carrot and potato


For something a little more refined, use a masher or blender to blend the vegetables into the soup. The potato thickens up the soup


Serve with a garnish of spring onions or parsley
Tips from Easy Recipes

Not just for this recipe, but as a recipe tip, it much easier and quicker to use ginger powder rather than having to peel and grate fresh ginger


Likewise I purchase a large jar of garlic granules as it makes cooking so much more efficient. While I love fresh garlic, I simply do not have the time to peel then finely chop garlic cloves. You will find the granules simple and convenient to use and just as flavorsome


Not only does garlic and ginger add depth of flavor to the soup, but their health giving properties are well known.


I find a teaspoon of sugar helps bring out the flavor and if you prefer use honey as a healthy substitute


While I like this recipe as is, with thick chunky look of a rustic meal, if you do prefer your soups blended, remove half the potatoes and carrots, (when the ingredients are cooked) and place them to one side. Pour some of the soup into a glass jug and blend with a hand blender. This should take 3 to 4 batches of blending. Serve the blended soup with the saved chunks of carrot and potato.


You can purchase chicken carcasses from the supermarket or a specialty chicken store. It's the bones and not the chicken meat that bring the richness of flavor to a soup


If you have a dog at home, there's nothing they'd enjoy better than freshly cooked chicken meat. Using my fingers, I remove all the meat attached to the bones. Don't waste all this nice meat - your pet will love it!

There really is nothing better than a recipe like this when you're busy but have to get a tasty home cooked meal for all the hungry mouths at your table...and this takes all of 10 minutes to prepare. It's too easy for words!

---