Recipe For Christmas Cookies


This incredibly delicious recipe for Christmas Cookies is surprisingly simple and suitable for your little elves to help make. Its from our collection of easy recipes that look sensational and taste divine.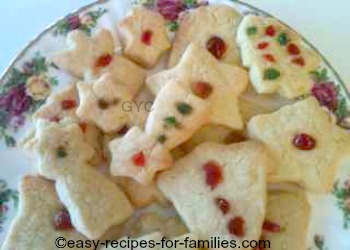 Rating:
Simple
Hands-On Time:
30 minutes
Hands-Off Time:
10 minutes
Ingredients:
6
Steps:
2 then bake
Making the cookies is really simple, but what takes time is the decoration of the cookies and how elaborate you want them to be.
Ingredients for Recipe For Christmas Cookies
This recipe gives step by step instructions for these very short, shortbread Christmas cookies. It's so simple. All you have to do is follow the steps below.
But for our novice visitors, we have detailed pictures showing each step of the way. Just click on the "Learn How" buttons for the photo tutorials.
Equipment: Non-stick cookie sheet or greased and lined baking tray
Christmas shaped cutters
Butter
Plain flour
Sugar
Cornflour
Eggs
Glace Cherries
3 Steps For Shortbread Christmas Cookies
Step 1:
Make The Dough.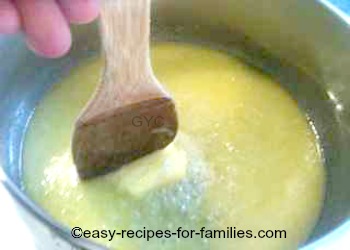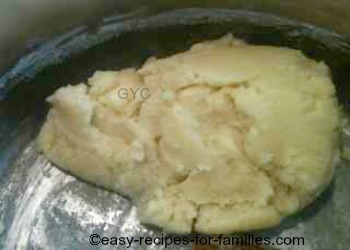 Step 2:
Cut out cookies, decorate.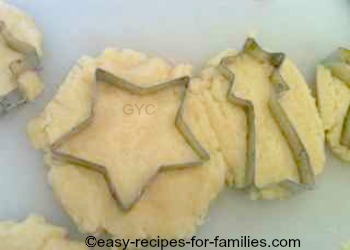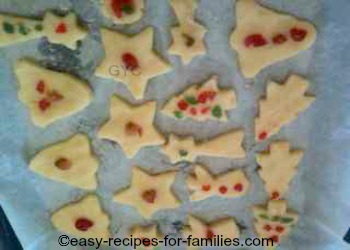 Step 3:
Bake for 10 minutes and not one minute more!
These Christmas Shortbreads go perfectly with this...
Egg Nog Recipe!
Enjoy yummy Christmas treats, egg nog, Christmas punch, rum balls. The treats just keep rolling in!
This recipe makes 28 thick Christmas shortbread cookies.

Equipment:

Non-stick baking sheets or well greased and line baking trays
Metal Christmas shaped cutters




Just Add
Prepare
• 6 oz/180 gm unsalted butter

• 1/4 cup sugar

• 1 egg

• 1 1/2 cups plain flour

• 1/2 cup cornflour

• 4 multi-colored glace cherries




• Preheat oven to 350F/180C

• In a large heavy saucepan, melt the butter with the sugar. But take care not to burn it. Take it off the heat immediately as soon as the butter has melted

• Keep stirring to combine the mixture till it is thick and well blended. It will go from quite oily to a thick mixture

• Add beaten egg. Combine

• Add the plain and corn flours. Combine

• The batter will become quite thick and crumbly, but as you stir, it becomes a dough and will stick together, just like in the photo

• It's now time to cut out the cookies. It's so much easier to work in smaller chunks, so break the dough into thirds. Place this small roll onto a lightly floured chopping board

• Cut it into slices about 1/3 inch thick

• Using your fingers and the heel of your hand, squash it flatter, spreading out the dough. It will be about 1/4 inch thick

• Apply the Christmas cutter. Wriggle it around so as to move the excess dough away from the shaped cookie

• Using a blunt knife, transfer the shaped cookies onto the cookie sheet

• Repeat till all the dough is used up

• Decorate with tiny cut pieces of glace cherries. It's much easier to use a pair of scissors to slice them up, than using a little paring knife

• You may want to leave a few to decorate when cool, or just leave as plain

• Bake for no more than 10 minutes. It should not even be brown

• Leave them to cool before removing them to a serving plate or to an air-tight cookie jar


Your children will also have great fun with this recipe for Christmas treats! When they are cool, use decorative gel to decorate to their hearts content.
---
Leave Recipe For Christmas Cookies to browse through hundreds of sensational yet easy recipes!