Sophia's
Christmas Egg Nog Recipe


Sophia, my beautiful and glamorous niece shares with us her delicious egg nog recipe. This drink really is delicious.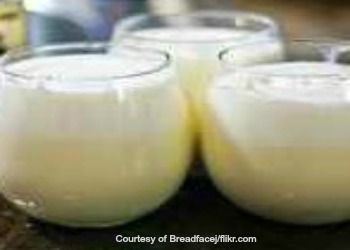 All the children in the family were able to enjoy this egg nog at Christmas as this recipe is not alcoholic.
Rating:
Very Easy
Hands-On Time:
5 minutes
Hands-Off Time:
0 minutes
Ingredients:
6
Steps:
2
This recipe makes a jug of about 20 serves of egg nog.

Equipment:


Just Add
Prepare
• 6 eggs

• 1 cup + 1 tbs sugar

• 1 1/4 ts nutmeg

• 1/2 ts vanilla essence

• 2 cups milk

• 2 cups cream




• Using a hand held beater, beat eggs till frothy

• Beat in the sugar

• Then add in the remainder of the ingredients. Stir well to combine


Pour into lovely tall serving jugs and serve in small glasses.
Oh, be sure to give each serving of egg nog a little shake of nutmeg.
When the hordes arrived for the Holiday Lunch (we're a big family), Sophia greeted everyone with a lovely cherry "Merry Christmas!" and handed everyone including the children an elegant glass of egg nog.
It really set the atmosphere for a happy and cheerful holiday feast!
---
Leave Sophia's Egg Nog Recipe to browse through loads of delicious and so easy recipes for holiday feasts!