You Won't Believe How Easy This is
Chocolate Slice

| | |
| --- | --- |
| | Related |
The name for this Chocolate Slice absolutely describes this yummy more-ish recipe...and you don't even need to worry about melting chocolate!


Easy Recipes Rating:  Incredibly Easy
Hands-On Time: 5 minutes
Hands- Off Time:  25 minutes

You Won't Believe How Easy This Is Chocolate Slice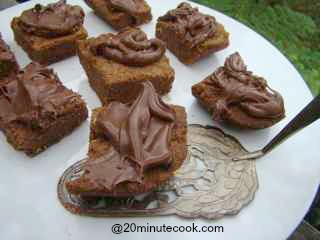 This recipe makes a tray of about 20 slices.  The slice has a scrumptious mouth feel of a deep chocolately cookie texture.


You'll need:
6 oz/180gm butter


3/4 c brown sugar


7 ounces/ 220 gm chocolate hazelnut spread such as Nutella


2 c all purpose/ plain flour


1 c chocolate frosting or hazelnut spread

Now, let's make the slice
Before you do anything, turn on the oven to preheat at 360F/ 180C


Use a roomy saucepan to make the mixture


Into the saucepan place the butter, hazelnut spread and brown sugar. Melt it all together and keep stirring to blend it well. This process takes only a few minutes


As soon as the butter has melted, take it off the heat immediately but keep stirring so that the mixture is an even consistency


Now, toss in all the flour and stir it in


You'll see the mixture clumps together like a large ball of dough


Tip it into a baking mold - notice I use a glass oven proof rectangular pyrex dish - and press it down firmly with the back of a wooden spoon


Place it in the center of the oven and bake for 25 minutes


When cool, top the slice with lashings of chocolate frosting
Easy Recipes Tips
I bake slices in oven to table ovenproof bake ware so as to minimize time decanting and arranging baked yummies.  If there is one thing to have a few of it's rectangular ovenproof dishes - Besides slices, I use these to make lasagna, casseroles, baked rice pudding, cobbler, roasts, roasted vegetables...the list goes on


There's no need to oil and line the dish as there's enough fat in the batter that it just slides off the pyrex dish


The reason you do preheat the oven is so that the oven cavity is at an even temperature and your recipe will cook evenly. So, always turn on the oven to preheat before starting the process


What I do, is after baking say a roast, since the oven's hot, I throw in something quick to bake, like this chocolate slice or perhaps a cobbler


I know you want to eat the slice NOW! but it really is much tastier with lashings of store bought chocolate frosting or hazelnut spread. But... you do have to wait till it cools completely firstly


If these last more than one day, they should be store in an airtight container


This slice is just ideal for packing for camping trips. Take a jar of frosting or spread to apply as a topping just before serving.

---