Coq Au Vin Recipe


A coq au vin recipe, is a french dish which means chicken in wine and is an exceedingly delicious meal using lots of local french ingredients such as garlic, mushrooms, red wine and brandy.
It really is a sensational recipe and best of all we can source ingredients for coq au vin at our local supermarkets!



Ingredients for coq au vin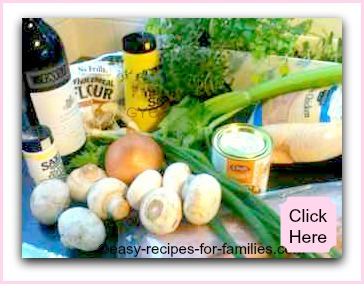 The French would eat this scrumptious meal with crusty french bread and a fresh  salad, together with a glass of lovely red wine.

Although we've found our little ones don't seem to like the taste of the deep rich flavor of alcohol. It's just too exotic for them.

Absolutely yummy!


Easy Coq Au Vin Recipe
This recipe serves 6 persons.
You'll need:

•    1 1/2 pounds/ 750g chicken meat, cut chunkily
•    6 bacon rashers, sliced into 1 inch strips ( Be sure to remove the rind and fat)
•    2 cloves of garlic, diced
•    1 large onion, diced
•    6 large mushrooms, sliced
•    2 heaped tbs flour
•    1 tbs sugar
•    salt and pepper to taste
•    herbs or bouquet garni, if you have it handy
•    2 c red wine
•    1 c chicken stock
•    1/2 c brandy

   
Here's how to put the coq au vin together:

•    Into a hot pan, brown onions, garlic, chicken meat, bacon
•    Add mushrooms
•    When the mushrooms are cooked, sprinkle over the meat the flour, the herbs, seasoning and sugar. Stir to cook and blend it for a couple of minutes
•    Then add all the liquid ingredients. Bring to the boil then reduce heat to simmer
•    Simmer for 15 - 20 minutes till the sauce thickens
...and that's it!

Now, how easy was that!
This easy coq au vin recipe is a hearty, heavy and strong flavored dish.  It's really quite rustic and makes one think of the French countryside. 

We once stayed at a farm house in Provence, in the South of France and this meal reminds us of this time.  We bought wine in jugs from the local vineyards, had fresh crunchy bread, sweet local greens and walked over open fields of thyme and rosemary. The coq au vin brings back all these memories of this vacation.
Tips From Easy Recipes

For healthy recipes, it's best to minimize the use of cooking oil, so use a non-stick cookware.

If you don't have a non stick pan, add a tablespoon of oil to the pan and heat it before adding the onions and meat to brown.



---
Leave Coq Au Vin Recipe to be inspired by hundreds of delicious easy healthy recipes!