Healthy Dinner Recipe
Ground Beef & Olives




Related
Make this delicious healthy dinner recipe in 20 minutes with low fat ground beef, olives and red wine.

A 20 Minute One Pot Meal
Ground Beef With Olives and Red wine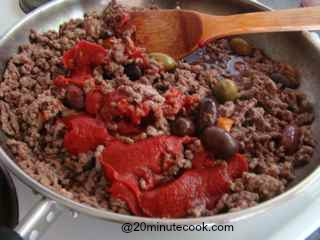 This tasty dinner recipe makes 4 serves.
You'll need:
1/2 pound/ 250 grams ground beef
3/4 cup seeded olives either black or green
1 packet of cup-a-soup, chicken or vegetable flavor,
1 1/2 cups red wine
1/2 cup water
2 tb tomato paste
2 bay leaves
1 cup frozen peas

Here's how to put the meal together

To keep the meal healthy only ever use premium grade lean ground beef


Add all the ingredients to the pot with the exception of the frozen peas


Stir to combine


Leave to simmer for 15 minutes till the sauce thickens


Add the frozen peas and stir through


Serve immediately or freeze for later use

Easy Recipes Tips
For This Healthy Dinner Recipe

Ground beef is delicious and healthy but only if you use premium grade lean mince meat.  Don't waste time de-fatting and stay healthy - always go for the best quality meat


If you really must, this is how to de-fat minced meat. Throw the meat onto a hot shallow skillet or frypan so that there's lots of room for contact with the pan. Stir and you'll find the fat oozing out. When the meat is cooked ( and it takes only minutes), pour the juices into a wide mouthed jar. Chill in the refrigerator to separate the fat from the juices. See the thick creamy white layer - that's the cholesterol rich layer of fat. Remove the fat and discard immediately. The juices are tasty and can be used to make gravy or to add to your cooking as stock


Always have in your pantry staples like peas, tomato paste and olives. They add such depth of flavor and interest to a dinner recipe


Other must haves for any dinner recipe, are garlic granules and dried oregano - you'll use them again and again for most dinner recipes


To keep a dinner recipe healthy, cook lightly. That means there is no need to over cook food. Keep it natural and taste the fresh original healthy flavors of herbs, tomatoes, eggs, leafy greens, corn fed chicken and so on


What I also love about a dinner like this 20 minute healthy dinner recipe is the minimal washing up!

---