Homemade soup recipes that are meals cooked in one pot are my favorite meals. They really fit the bill of one pot meals in a flash!
This is a terrific recipe for our Vegetarian friends as it's wholesome and hearty. Use the same recipe and omit the ham pieces.
My minestrone soup is cooked in a slow cooker so it's just thrown together first thing in the morning and set on low to cook for 8 - 10 hours and wonderfully delicious by the time you and the kids are back for dinner.
I put through some pre-cooked or left over pasta and stir it through the soup for 5 minutes before serving to warm it through.
Our Favorite Homemade Soup Recipes - Minestrone Soup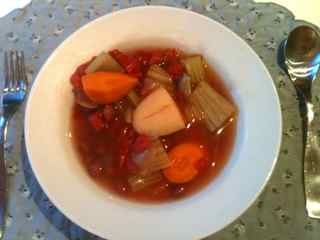 Absolutely yummy!
Easy Homemade Soup Recipes | Minestrone Soup

This recipe serves 8 persons.
Just Add
Prepare
• 1 lb/500 gm ham steaks, cut chunkily

• 2 onions, quartered

• 2 carrots, cut into large chunks

• 2 celery sticks, cut into large chunks

• 2 potatoes cut into large chunks

• 2 tins/28oz/800gm of diced tomatoes

• 6 cups chicken stock

• 2 tins/28 oz/800 gm red kidney beans



• 2 cups cooked short pasta




• Put all the ingredients, except the beans and cooked pasta into the slow cooker

• Cook on low for 8 - 10 hours, or on high for 6 -8 hours

• Before serving, stir through the cans of beans and cooked pasta. Cover for 5 minutes. Leave it to warm through


This easy minestrone soup is a meal in itself with carbohydrates in the pasta and potatoes and vegetables, protein from the meat and beans and all the goodness retained from slow cooking.
Now, how easy was that!
...and it takes no time at all to chop up the ingredients and pop them in the slow cooker.
~~~~~~~~
Tip
Conventional cooking: Use the same procedure and cook in a large soup pot for 45 minutes on high.
For Vegetarians, omit ham pieces.
~~~~~~~~
Homemade soup recipes are terrific as you know they're healthy and it is so quick and easy to prepare a tasty filling meal.
Try our other homemade soup recipes:




Wishing you happy cooking!
For more Quick Easy Recipes:
---
Top of Page Homemade Soup Recipes | Minestrone Soup