My Mum's Homemade
Chicken Soup Recipe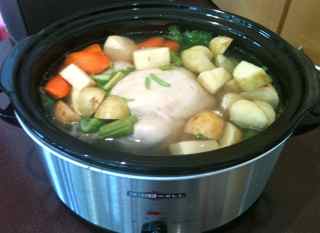 Mum would make her homemade chicken soup recipe for us as kids when any of us were feeling a little under the weather.  Her recipe is just pure chicken stock made from a whole chicken with loads of vegetables for natural sweetness. 
There's something about pure chicken soup that makes one feel healthier. You don't get this wholesome nutrition from canned soups.
...and on top of that, it is just too simple to make.

• 1 small to medium sized whole chicken, trimmed of the skin and fat

• 3 large carrots, diced large

• 3 medium sized potatoes, cut chunky

• 1 large onion, diced chunkily

• 3 celery stalks, chopped thickly

• Add sufficient water to come up to half the level of the the chicken (before the addition of the other ingredients)


• 1/2 inch of fresh ginger chopped finely

• 2 cloves garlic chopped finely

• salt, pepper, sugar to taste

• 2 cups frozen peas





• Put all the ingredients, other than the peas in a large soup pot

• Cook on high heat till it boils then turn it down to moderate low heat for 1 hour.

• Season to taste

• Lastly add frozen peas as you're about to serve

• Garnish with a sprinkling of parsley

• For cooking in a crock pot, cook on high for 4 hours.

• Serve as a one pot meal or if someone is ill, serve only the pure broth.



Tips
If you wish to freeze this homemade chicken soup, remove the potatoes


If cooking with a slow cooker, always add only hot water when the ceramic pot is hot, otherwise it may crack


To skin and de-fat a chicken, clip the skin on the breast away with a pair of kitchen scissors and tear away with fingers, cutting connective tissue as you go. Discard the skin and all the fat. Don't ever eat this as it is full of cholesterol.


Water levels - this is about 6 cups of water. Don't add any more as it dilutes the flavor.


As this homemade recipe cooks the meat as well, do not over cook for more than 4 hours as chicken breast meat becomes dry and stringy.


It is the garlic, ginger and chicken that makes this recipe so very good for health reasons.

...and to top it all, it's delicious and incredibly easy to cook!

---
Easy Recipes | Easy Soups | Easy Chicken Soups | Homemade Chicken Soup Recipe