How To Cook Roast Pork
For Crunchy Crackling and Succulent
Sweet Moist Meat


Learn how to cook roast pork - it is so easy to prepare and tastes too good to be eaten only at Christmas or on special occasions.
...the secret is in the preparation.
Of course, what you can do is take it out of its packaging, plonk it on an oiled baking tray and roast!

Here's the ingredients for this recipe - a roll of roast, spinach and almonds and a heap of salt.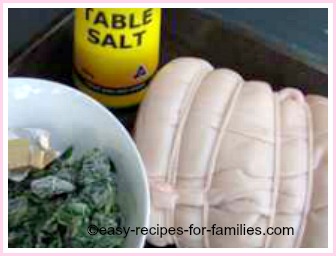 But if you want your roast pork with crunchy crackling with sweet juicy meat, then that's what you do.
Rating:  Very Easy
Hands-On Time: 15 minutes
Hands-Off Time: 1 1/2 hours
Ingredients:  7
Steps: 2 then bake
Here it is stuffed and ready for baking. It'll be perfect!

How To Cook Roast Pork
With Almond and Spinach Stuffing
Here's how to achieve a sweet juicy roast with  crunchy crackling
This recipe makes 6  - 8 serves.
You'll need:
3 pounds/ 1. 7 kg pork for roasting with deep cuts into the rind
1/4 cup whole almonds
1 cup chopped frozen spinach
1 egg, beaten
1 stock cube or 1 ts stock powder
salt for the crackling
Here's how to put it together:
Preheat oven to 450F/ 220 C
Cut a hole in the middle of the meat for the stuffing.
To make the stuffing, mix together in a bowl,  the almonds, chopped spinach, stock powder and egg.
Use your fingers to stuff the mixture into the deep cavity that you've cut into the roast.
Now, for the treatment of the skin.  Place the cut on an oiled or lined roasting tray. Pour liberal quantities of salt over the rind. Use your fingers to massage this well into the rind, getting the salt into the cuts that the butcher's made.
It's now ready to cook. Place the pork into the oven to roast for:
30 minutes at 450F/220C
then 25 to 30 minutes at 180 C for every pound or 500 grams.  In this recipe, with a standard 3 pound leg of pork, this will take about 1 1/2 hours.
Take it out of the oven and rest it for 15  to 20 minutes. It will continue to cook during this time.
That's it!
It's very important with pork that it is cooked all the way through, so use a sharp knife or skewer and insert it deep into the roast. If the juices run clear, it's cooked. If it still pink, put it back in the oven to cook.

The secret in how to cook roast pork to perfection is to keep the rind dry. Pat it dry with paper towels then add the salt liberally. In my Mum's roast pork recipe, she also adds vinegar and it's always sensational. 
But the key is a dry rind AND a very hot oven at the beginning. This blisters the rind and makes for the crunchy crackling.
The next secret is to slow cook the meat so that it remains sweet and juicy, so turn the heat down and cook it on moderate heat. Take care not to over roast - that's when it becomes dry and tasteless.
Now you've learned how to cook roast pork and wasn't that ever so simple.
Serve with steamed vegetables and potatoes. 
Your family will love this incredibly easy recipe which produces the perfect crackling and perfectly cooked moist roast.  Look out for more of our easy recipes to whip up. I love recipes like this with minimal preparation and you get to do your work uninterrupted while dinner' cooking in the oven.

Easy Recipes Carving Tips
Always allow the roast to rest. It will keep cooking while resting.

To carve, firstly remove the crunching crackling by cutting it from below the rind. Remove to another plate and slice the yummy crunchies. If it's too soft for your liking, pop it back in the oven at 450F/220C to dehydrate further.
Then slice the roast by slicing against the grain.

---
Leave How To Cook Roast Pork to explore for hundreds of delicious easy recipes that will have the family running home to dinner!