How To Cook Bacon
MicroWave Cooking Takes 2 Minutes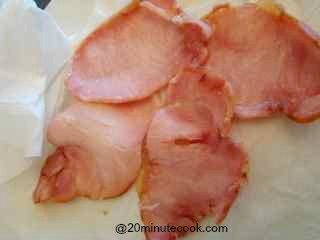 Learn how to cook bacon
Microwave cooking turns out a nice crispy result but the exploding spattering fat makes a horrible mess in the microwave oven.  The process takes all of 2 and a half minutes! No time at all!
...and is an ideal way of cooking bacon quickly when you need to add it to soups or tasty bread recipes.  It's a quick way of jazzing up easy recipes.

Rating: Very Easy
Hands-Off Time: 2 minutes 30 seconds.
Cook Bacon In The Microwave
Step By Step Photo Tutorial

Lay paper towels or kitchen paper onto a ceramic plate


Place the rashers on the paper so they do not overlap





Using another sheet of kitchen paper, cover the bacon rashers completely.


Take care it is completely covered.  Bacon fat splatters and explodes while cooking in the microwave and the paper towel absorbs all that spluttering fat.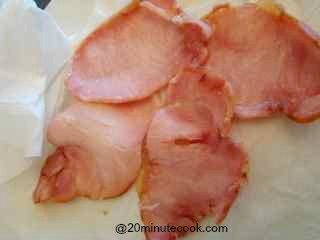 Cook on high for 2 minutes 30 seconds


Remove the top paper towel and there you are, perfectly cooked bacon


Use this short cut  easy method to cook bacon quickly when you're making recipes that require the addition of this tasty ingredient.
Tips From Easy Recipes

Because this smoked meat is fatty, we only ever use rashers that are trimmed of excess fat.  We avoid streaky bacon as it really is mostly fat


To work quickly with bacon, use kitchen scissors to trim fat or to cut it quickly into smaller pieces. It is much faster than trimming with a knife. A sturdy pair of scissors makes work easy in the kitchen.


It is much cheaper to purchase rashers in bulk. Separate them into meal sized portions and freeze. Do this once and it makes cooking later easy.


Cook some straight way either in the microwave oven or fry pan, then freeze the surplus. This comes in handy when you need to add cooked bacon to recipes
It quickly adds depth of flavor to soups, pies and quiches so it is handy to have some pre-cooked frozen rashers in the freezer

Check out these easy recipes:

---