How To Cook A Quiche
In 20 Minutes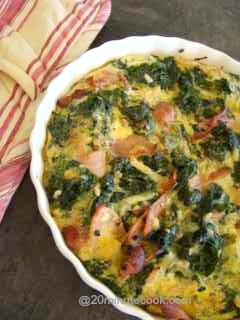 This is our short cut method on how to cook a quiche so that it's done and on the table in 20 minutes. Cook quiche without a pie crust and without added self raising flour for a healthy, natural, whole food meal.

This is one of our gluten free easy recipes.
Rating:  Easy
Hands-On Time:  3 mins
Hands-Off Time:  15 mins
Bacon & Spinach Quiche
In 20 Minutes


To make this short cut quiche you'll need:

6 oz/ 180 gm frozen spinach, thawed
6 pieces of bacon, cooked and cut into small pieces

1 cup shredded tasty cheese

5 eggs
2 half shells milk
salt, pepper, dried chives

Preheat the oven to 460F/220C


Into the ceramic flan ware, place the spinach, bacon pieces and cheese. Mix it around


In a large jug, beat eggs with milk and seasoning


Pour beaten egg mixture over the ingredients in the flan


Bake for 15 minutes


This can be served immediately and is just as delicious cold
Step By Step Photo Tutorial
How To Cook A Quiche In 20 Minutes

Tips From Easy Recipes

To cook efficiently, I buy a large 2 pound/ 1 kilo bag of bacon and dispense the bacon into meal serves


Using a pair of kitchen scissors, half is cut roughly into smaller pieces, pan fried and frozen to be used later  such as here when you need to cook quiche.


If adding milk or water to an egg mixture, the general rule of thumb is half an eggshell of fluid to one egg.  We add a little fluid so that the egg texture is not too dense


For our easy recipes without using flour, that is gluten free easy recipes, use less added liquid. When you cook quiche you want it not to be too wobbly.  Often you'll find, cooks add a tablespoon of self raising flour.  However to cook quiche gluten free, you'll notice we add only one half egg shell of added fluid to 2 eggs


Always have in your pantry, dried chives or dried herbs. When you're cooking quickly, these handy herbs add flavor and complexity to the easy recipes


Grease your bake ware if it is non-stick


Always preheat the oven so that the oven cavity is at an even temperature before you cook quiche.

More easy recipes with eggs:

---