Elegant Pie
Pumpkin
Hurrah! Your elegant pie
Pumpkin In Filo, is just about done!

At the conclusion of this stage of the tutorial, you'll have plated this very beautiful filo pastry pumpkin pie.


This tutorial has shown how to create a
pumpkin pie
wrapped in 15 layers of prepared filo pastry.
You now have a pie filled with a delicious filling of
fresh pumpkin
and
marinaded chicken
and you've learned how to work
what initially seems impossible - the very fine filo pastry
.
Preparation:
Is the oven preheated to 360F/180C?
If not do so now.
For successful baking the air temperature in the oven needs to be evenly distributed.
Glaze, Bake, Plate
What you require:
Spray can of oil or the remaining oil with the pastry brush
The prepared pie encased in filo
Step 1: Glaze
Glaze the pastry by spraying oil all over the filo sheets into every nook and cranny.
If you're doing this manually, use the pastry brush to brush oil onto the filo sheets, and again, take care to get into every exposed surface.
Glazing with oil is an important part of the process as it adds moisture to the pastry and helps with browning.
Step 2: Bake
Place the glazed pie into a preheated oven at 360F/180C.
Place the spring form pan in the lower center of the hot oven.
Bake for 45 minutes till a lovely golden brown.
Look at this gorgeous pumpkin pie - freshly baked, right out of the oven and just beautiful!
Leave the pumpkin pie to rest for 10 minutes while it cools.
Step 3: Remove the spring form pan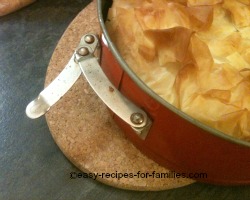 Release the spring on the spring form pan. This will loosen the wall, while the pie continues to sit on the base. Be sure to firmly hold the base on the bottom, when the lever is released.

While holding the base, lift the loosened wall off from above and remove it.





Present your elegant pie
Pumpkin Pie with Marinaded Chicken Crowned in Filo
Isn't this just outstanding!




There you are...wasn't that worth the effort!

Serve immediately while it's hot and right out of the oven. The crown of delicate filo is golden and crunchy and the filling sensationally delicious!



This elegant pie is just perfect with...

You've made this wonderful pie and timed it to perfection to serve right out of the oven. So, if you're making this beautiful pie for a dinner party, be sure to have easy recipes for the other dishes. Make these incredibly easy ham and egg "pielets" which look beautiful, taste sensational and take just minutes to do well in advance of your party. They are perfect as appetizers plated with fresh greens.






---
Back To: Elegant Pie
Pumpkin in Delicate Filo
Check out


easy dinner party ideas! The trick with dinner parties is to pre-make most of the dishes so you too can relax and enjoy your party.