Easy
Sticky Date Pudding
Recipe

This sticky date pudding recipe is another of Margie's incredibly simple and wonderful recipes.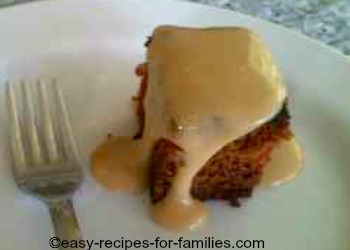 She made this recipe at the ski lodge and basically, smooshed all the ingredients together in one big pot, poured the batter into a baking tin and 40 minutes later ...she had the tastiest date pudding for all of us to enjoy.
If you'd like to go straight to the recipe for a
Sticky Date Pudding, just click here
.
Rating:
Simple
Ingredients:
8
Steps:
4
Oh, Margie recommends adding ginger. The flavor is so subtle but adds another dimension to the pudding.
Easy Steps:
Step 1 - Smoosh dates, water, sugar
Step 2 - Add eggs, flour
Step 3 - Bake
Step 4 - Combine all sauce ingredients in a pot to make the sauce
Just Add
Prepare
• 1 pound/ 500 gm pitted dates

• 4 cups water

• 6 oz/ 180 gm butter

• 2 cups brown sugar

• 3 cups self raising flour

• 3 tsp bicarbonate of soda

• 6 eggs

• a little ginger (Optional)



• Preheat oven to 360F/180C

• In a large saucepan, melt butter. Add sugar, dates, water and ginger (if you wish)

• Smoosh it with a masher or stick blender till the mixture is smooth

• Fold in flour and bicarbonate of soda and beaten eggs

• Pour into a non-stick baking tin or lined tin

• Bake for 40 - 45 minutes


Just Add
Sauce
• 4 oz/ 125 gm butter

• 1 cup brown sugar

• 1 1/4 cup/ 300 ml cream

• a little ginger (Optional)



• Put all the ingredients into a saucepan and mix well till combined

• Spoon the sauce over generously thick slices of sticky date pudding


Enjoy this simple to make sticky date pudding!
Tips
Use non-stick bake ware to eliminate the step of greasing and lining your baking tins.
This makes 16 generous slices of sticky date pudding. There's more than enough to put some away to freeze
---
Leave Sticky Date Pudding Recipe to check out hundreds of sensationally easy recipes and ideas for desserts, cakes and loads more!