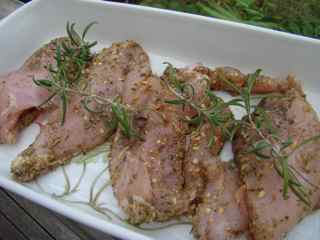 To make this recipe for 4 servings, you'll need:
4 small to medium sized chicken breasts, butterflied to flatten them out for even cooking
1 tb oil
1 heaped ts garlic granules
1 heaped ts dried oregano
4 sprigs rosemary
salt and pepper

Here is how you put this together:
Using a shallow oven proof dish, mix all the ingredients together so that the marinade overs the breasts completely.  Add a little more oil if necessary.
Arrange the meat so that it sits flat on the dish.
Place under the broiler at 175 - 180C. Cook one side for 6 mins
Then turn over and cook the other side for another 6 mins or till nicely browned.

 If the breast is too thick, it will take longer for each side
Serve immediately with salad. Serve from the same dish to save on washing up.