Delicious Cold Broccoli Salad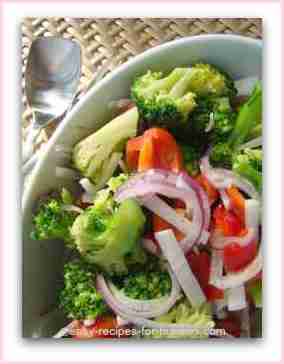 Amazing, Delicious, Crunchy Cold Broccoli Salad With White Radish, Red Bell Peppers and Spanish Onion. It's So Easy -  Just Follow The Photos.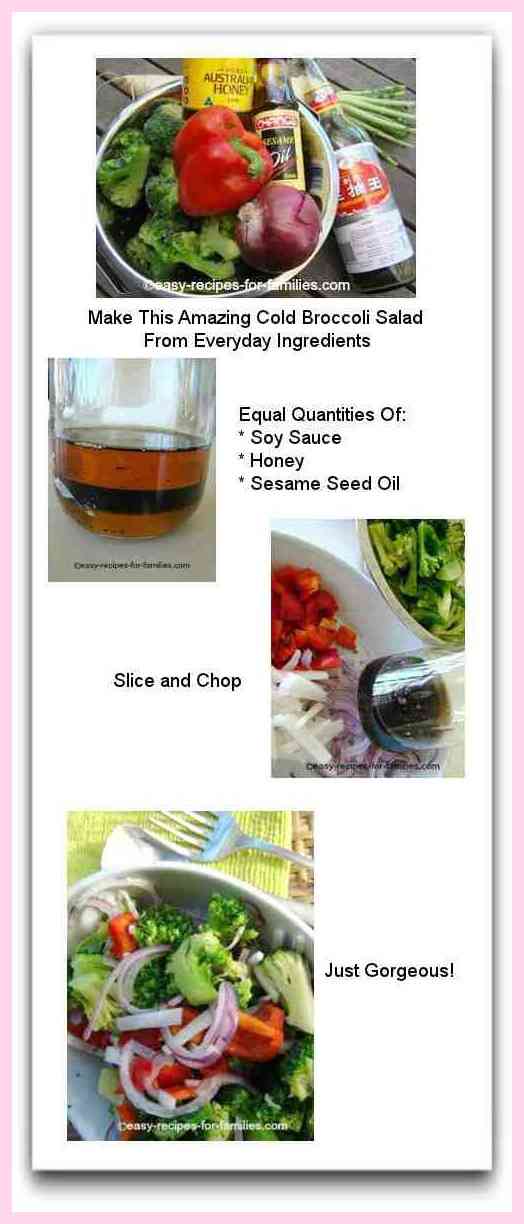 Into the salad bowl, put in the cold ingredients:

one bag/ 1 pound/500 gm broccoli florets, defrosted

1 medium sized red bell pepper/capsicum, diced into 1/2 inch squares
1/3 of a Spanish /Red Onion, sliced very finely into half rings
1/4 cup of finely sliced white radishes




For the dressing, pour into a clean lidded jar,

2 tbs sesame seed oil


2 tbs light soy sauce


2 tbs honey


Before serving, give the jar a good shake to blend the dressing and pour over about half an hour before serving.

Serve this broccoli salad cold.



Tips
This recipe is inspired by Nina Saville's Broccoli Salad which she makes from fresh broccoli. I like her dressing which is strongly flavored and I've used it again in this recipe.  But in this recipe I've been lazy and bought blanched broccoli florets which comes in bags in the freezer section of the supermarket.


If the taste of sesame oil is too exotic, substitute with a quality grade olive oil


Soy sauce comes in different densities. For a salad, it is best to use the light soya sauce which is very liquid and pours like water. There are other sauces that are thicker and these are used for cooking - they are not suitable for a cold salad such as this.


For the onion, use a strong tasting onion. Cut in half, then slice one half very finely to about 2/3.  That's how you estimate 1/3 of an onion.  Gently break up these thin half rings and scatter them over the salad


This salad is suitable to be prepared well ahead of serving. Dice and prepare the ingredients and prepare the marinade. Cover it and store in the refrigerator till required.


To help defrost the broccoli florets, pour cold running water over the frozen broccoli, in a colander. Let them drain and sit for a few minutes till fully thawed.

---
Easy Recipes | Easy Healthy Recipes | Cold Broccoli Salad