Simplest Dutch Oven Camping Recipes
All in One Beef n' Rice

Here are our favorite easy dutch oven camping recipes.

A dutch oven is a heavy cast iron pot with a fitting lid. It is perfect for slow cooking such as roasts, stews and cakes (yes, cakes). We use the dutch oven for cooking at "standing camps", that is camps where we drive in, set up camp and settle in.

A dutch oven is not convenient for camps when you're hiking to different camp sites each day.


Dutch Oven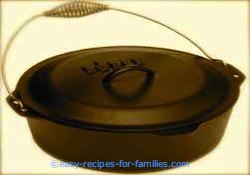 For camping, it is best to get the large dutch oven, generally the 7 or 9 quarts size. While you think this is enormous, and it is, you'll find this large volume comes in handy when you're cooking for large groups. We've found on camping trips with other families, families do take turns to cook, so you're generally cooking for between 6 to 8 people.

This equipment is ideal as a variety of different meals can be made in the generously sized pot, and of course, it is good for cooking for large numbers of campers.

Easy Dutch Oven Camping Recipe 
All In One Beef n Rice
This recipe serves 8 persons, but vary the quantity of ingredients to suit either 2 persons or 20. Naturally, for large numbers of diners, you will need more than one dutch oven.

This is a one pot meal with the rice cooked with the ground beef and vegetables. It's an ideal recipe for campers.
Just Add

• 2 lb/1 kg premium grade ground beef

• 1 onion, diced or 8 tsp dehydrated onion

• 2 cups uncooked rice

• 1 can/14 oz/400gm diced tomatoes, including juices

• 2 stock cubes

• 5 cups water

• 2 packets dehydrated corn and peas

• 3 tspn paprika (optional)

• 2 tomato paste sachets (2oz/50gm each)

• Salt and pepper to taste



Prepare


• Into a hot dutch oven, brown the ground beef and onion.

• Stir in uncooked rice and cook for a few minutes

• Toss in all the ingredients

• Cover with the lid. Put the dutch oven onto the hot part of the fire, and bring to the boil

• Then move it to the coals to simmer. The meal is ready when the rice is cooked. This is generally about 30 minutes




Like our other dutch oven camping recipes, this meal is a convenient and tasty one pot dish.

The key to successful cooking with a camping dutch oven is to master the hot and cool spots on the fire.


Tips From Easy Recipes

Paprika may be omitted if the kids find this too "fancy". 
If your family is fine with spices, piri-piri flakes has a stronger "bite" and can be used as an alternative to paprika.
A teaspoon of sugar helps bring out the flavor.
A knob of butter adds flavor, but in an attempt to reduce the amount of fat consumed, I generally omit additional butter or oil.
 
Click on this link to learn How To Select The Best Camping Recipes.  This has been learned from years of camping experience as Scout leaders.
---

Leave Dutch Oven Camping Recipes to discover hundreds of incredibly easy and delicious family favorites! Pre-cook these meals for your camping trip.