Dutch Oven Camping Recipe
Roast Leg Of Lamb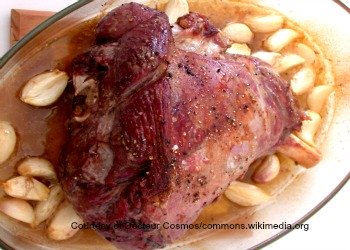 The secret to cooking a dutch oven camping recipe is how the coals are managed. Too many campers cover the dutch oven with too many coals. This makes the dutch oven too hot and the roast will be dry, overcooked or burnt.
This dutch oven recipe of roast leg of lamb with potatoes, pumpkin and carrot is always a success for us.
Juicy Leg of Lamb Roasted in a Camping Dutch Oven
Recipe For Camping Dutch Oven
Roast Leg Of Lamb With Potatoes And Veg
The Meat - How To Keep It Juicy

It's best to purchase leg of lamb butterflied or de-boned. As it is flattened, it will cook much quicker and more evenly.


Rub salt and pepper over the butterflied meat. If you've brought some dried rosemary with you, put a couple of sprigs in the pot. 


Put the meat in with scrubbed potatoes, pumpkin and carrots into the dutch oven. Cover firmly with the lid.

How To Manage Cooking On An Open Fire

DO NOT place the dutch oven directly on the fire


DO NOT cover the whole pot with coals


The dutch oven sits adjacent to the fire. So, take the filled and covered dutch oven and sit it close to but not in the fire.


Take coals out of the fire and place coals in a circle around the diameter of the pot


Then take every second piece of coal away and put these on top of the lid.



That is how you create the perfect temperature for this recipe of campers roast lamb cooked in a dutch oven.

Roast for how long?

Allow 45 minutes for a butterflied leg of lamb which is the recommended cut of meat. Being flat, it cooks evenly.
Otherwise the cooking time for a whole piece with bone, is 20 minutes for every pound plus a further 20 minutes. For a standard leg of 2 kilos or 4 pounds, that's about an hour and 40 minutes.

Now, wasn't this camping recipe incredibly simple to make! Our children make this camping recipe successfully and the meat is always juicy and delicious.



Tips From Easy Recipes
For A Dutch Oven Camping Recipe

Handle coals with long tongs


Have separate tongs for food and another to handle coals


If the kids or scouts are new to camp cooking, have a practice camp at home so they're familiar with the equipment and the process


It is especially important the campers know how to handle cooking on an open fire and how to control the temperature by moving the coals around. Otherwise they'll end up hungry with burnt or overcooked food or starving from food cooked on too cool a fire.

More Dutch Oven Camping Ideas

---