Easy Dutch Oven Recipes
For Campers


Our favorite easy dutch oven recipes, make all in one meals.  When you're at camp and don't have all your kitchen equipment, it's just so pleasing to be able to create a meal in a pot.

Our Family's Favorite Dutch Oven Meals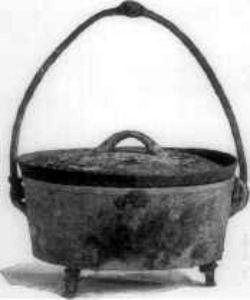 This image is a dutch oven from a photograph made for McClure's Magazine, January, 1896, Vol. VI. No. 2.

The Dutch oven shown here was owned by Mrs. Ott, of Petersburg, Illinois. It was featured in an article in McClure's Magazine in 1896. "These Dutch ovens were in many cases the only cooking utensils used by the early settlers. The meat, vegetable, or bread was put into the pot, which was then placed in a bed of coals, and coals heaped on the lid."

Camping Tips From Easy Recipes

How to control the fire at camp

More than likely, if you are at a standing camp, you'll have access to a gas burner. Naturally it is much easier cooking with gas than cooking on a camp fire.

If you are cooking at the fire, it's easier to control the heat, by taking coals out of the fire and placing it just to one side. Put the dutch oven on the adjacent pile of coals. You can adjust the heat by adding or removing coals as necessary. If baking, heap them over the dutch oven.


Related Topics:

As scout leaders, we have years of camping experience with the objective of teaching the kids independence in the bush. As a result our recipes really are easy as the children need to succeed at their camp cooking endeavors.  Read some of our tips.

How To Select The Best Camping Recipes.

A fun recipe: Camping Treats For Kids - Toasted Marshmallows With Chocolate Wheatens

Fuel the kids up for a busy active day, with these Hearty Breakfasts For Standing Camps

For more easy camping recipes for hikers:

Hikers Pasta n Salami

Simple Breakfasts For Hiking Camps

---
Leave Easy Dutch Oven Recipes to explore for more meals in a flash! There are loads of delicious simple no fuss meal ideas.