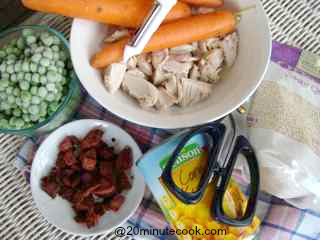 This recipe makes 4 serves.

You'll need:
Two chicken breasts, cooked, diced into chunks


1 can/ 15 oz/ 425 gm corn, drained


1 1/2 cups quinoa grains


2 1/4 cups vegetable stock


4 carrots, diced small


1 cup frozen peas


2 tbs diced salami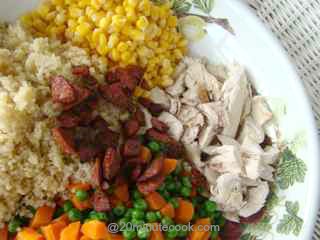 Here's how to put the salad together:

Cook the quinoa in the vegetable stock. This will take about 20 minutes. Bring to a rapid boil then turn down the heat to a low simmer till it's cooked.  There's no need to stir

Boil the diced carrots but only for about 5 minutes on rapid boil to soften but not to cook them. Just before draining, turn off the heat and toss in the frozen peas. Give it a little stir to warm them through and drain away the liquid
While the carrots are being softened, quickly fry the salami pieces on high heat to brown and crisp them up. This takes about a minute or two.

Into your lovely salad bowl, place
the contents of the can of corn ( drained of course)
the drained cooked peas and carrots
the chunkily cut chicken pieces
the cooked quinoa

To make the salad, toss lightly together to combine
Scatter the top of this easy chicken salad with the crisp salami pieces.