Easy Dinner Party
Menu For Twelve
I prepared this easy dinner party menu for twelve guests last weekend. So as not to be flustered on the day, many dishes were prepared ahead so, as to minimize the work before guests arrived such as tidy the house, set a beautiful table, prepare the salad and pasta, pop the hero dish in the oven and send the hubby out to stock up on beer.
As there's enough to do on the day, let alone getting yourself and the kids dressed and relaxed before your guests arrive, it is important that these are easy recipes, taste divine and look sensational.
Easy Dinner Party Menu For Twelve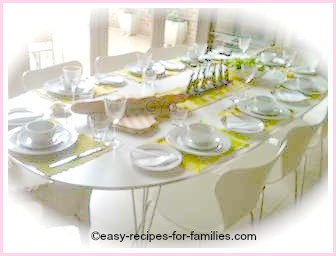 As it's difficult to suit the taste of twelve diners, a good solution is to present a variety of dishes, so that there'll be something that everyone will enjoy.

I served this easy dinner party menu for twelve,  buffet style, on the counter. It makes for a relaxed evening when your guests are happy to help themselves and feel welcome to go back for seconds.
All these dishes look sensational with good crockery and cutlery. Furthermore, this menu is so incredibly easy to prepare leaving you unstressed before your guests arrive. Here's the To Do List to be attended 2 hours before the party:

make the salad
heat up the soup with the cream
pop the chicken in the oven

Cook the pasta
set the table
look gorgeous
Planning:
Cream Of Chicken Soup
I followed this easy soup recipe and prepared this the weekend before, omitting the cream and froze the soup. On the day, all that was required was to reheat the soup and cream added. Please take care not to boil the soup with the cream.
Delicious Ham and Cheese Loaf
This is a favorite with everyone so I prepared two loaves the day before. Serve them sliced diagonally on a wooden board. It looks amazingly professional and you'll be complimented no end on this yummy bread.
Baked Chicken with Honey and Seeded Mustard
This very easy dinner recipe is marinaded the day before so that all the yummy juices seep into the meat. It takes all of 30 minutes to bake in the oven and is perfect for a dinner party as it looks fantastic, is superbly delicious and is so very easy to cook.
A simple fresh salad with
crisp fresh lettuce leaves from a whole lettuce
3 large tomatoes
1/4 white onion, sliced very finely
5 large mushrooms, sliced
This salad hardly takes 10 minutes to put together. A simple, uncomplicated salad is what's necessary to accompany a tasty hero dish.
Just sprinkle a little salt and pepper and a dash of lime juice for a very light dressing. You want an accompaniment of sides that is not too "tasty" so as not to over shadow the taste of your hero dish.
This is a larger salad than the family sized No Oil Garden Salad.
Pasta
Prepare: 250gm/8 oz short pasta and 125gm/ 4 oz long pasta. Cook till al dente, drain and mix in a little olive oil to stop the pasta sticking together.
Mix a cup of sliced black olives through the pasta.
Cover until required for the party and serve at room temperature.
Desserts
Both desserts are incredibly easy to prepare and these were prepared and refrigerated the day before.
Easy Moist Banana Cake
I make a cake to go with coffee or tea at the end of the meal, so that guests have a little something with their hot beverage.
As with the other recipes, the moist banana cake is baked the day before and stored in an air tight container.
Success!

The key to a great dinner party is relaxed hosts. That means YOU! Do as little as possible on the day so that you're fresh and happy for your guests.
Together with a delicious meal on a fabulous table, your party is bound to be a success!
Just follow this easy dinner party menu for twelve and you'll have a stressless time preparing for your party and importantly, you'll actually have the time to enjoy your guests.
Have a look at this page if you'd like more easy dinner party menu ideas or

Easy Dinner Party Menu For Four
Preparing for a big dinner party is no different from preparing for a big case or matter. Just be prepared and do most of the work beforehand. Remember, the same rule at work applies at dinner parties - it's all in the presentation.
So, make your table look glamorous! The meals are the same as your easy family dishes, but on a well dressed table with your best crockery, it looks FANTASTIC! This easy dinner party menu for twelve fits the bill as the dishes are easy to prepare, taste scrumptious and look divine.
---
Easy Recipes > Dinner Parties > Easy Dinner Party Menu For Twelve