Kid Friendly Recipes

Are you searching for kid friendly recipes? To make it kid friendly, they have to be easy to make with uncomplicated steps towards a tasty, hearty and nutritious meal. If it's not tasty and not quick, no matter how kid friendly, they'll quickly lose interest and that'll be the end of their cooking activities.
So, here's a recipe that is very simple to prepare and it is always tasty and "more-ish".  This makes a hearty, tasty and filling meal that the kids can prepare to as a contribution to the family meal.
Kid Friendly Recipes for Spag Bol Sauce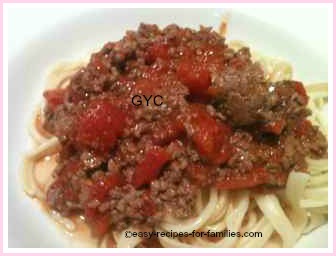 No Fail Spag Bol


This kid friendly recipe makes 4 servings.

Just Add 
• 1 lb/ 1/2 kg premium grade ground beef

• 1 heaped tsp stock powder

• 1 heaped tspn flour

• Salt and pepper to taste, 1 heaped tspn flour

• 1 can/ 8 oz/ 400 gm diced tomatoes

• EQUIPMENT - Large sauce pan, measuring tea spoon, can opener, wooden spoon


To put it together:

• In a large non-stick saucepan, on high heat, saute ground beef for a couple of minutes to sear and brown. If using a pan that is NOT non-stick, heat a tablespoon of oil in the pan. When it is smoking, then add in the meat to brown.

• Add flour, salt and pepper, sugar and stock powder

• Combine well and cook for 3 minutes

• Add all contents of the tin of diced tomatoes, including the juices

• Combine well. Turn heat down to moderately low and simmer for 10 minutes

• Taste test and add more seasoning if required.

• Cook Spaghetti. In a large saucepan, fill to half way with water. Add 1/2 teaspoon of salt. Bring water to the boil. Put in Spaghetti and cook till "al-dente". This means it's mostly soft but still a little hard in the center. Drain.

• Plate pasta, spoon Bolognaise sauce over the pasta. Top with Parmesan cheese.


Tips From Easy Recipes

Recipes for cooking at the stove, like this, although easy to prepare will need your supervision.
This is kid safe as a knife is not used in this recipe.
To make the kitchen kid safe when they cook pasta, please supervise when they are close to boiling water. Use the stove ring towards the back of the hot plate. Please take great care.
To make cooking ground beef, kid friendly, always only ever use premium grade ground beef.  Using quality meat means you omit the process of searing meat then draining, to remove all excess fat.
Always have clean washed hands when handling or cooking food.
Tinned vegetables are healthy to use as these are canned immediately and all the goodness is retained.  This saves so much time too. There should be no added preservatives to canned vegetables.
Teach the children it's not just to keep the kitchen kid friendly, but everyone should turn the pot handle away from the edge of the stove to prevent it from being accidentally knocked.
---
Easy Recipes > More Kid Recipes > Kid Friendly Recipes